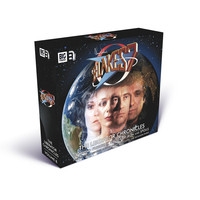 Starring Gareth Thomas, Jan Chappell, Jacqueline Pearce, Peter Miles with Dan Starkey and Jemma Churchill
Three enhanced audiobooks performed by the stars of the classic BBC television series.
President by Simon Guerrier
Alone together, two F...
Out now!
Other recent releases

Starring Gareth Thomas, Paul Darrow, Michael Keating and Jan Chappell
Out now!
Starring Paul Darrow, Steven Pacey, Sally Knyvette, Gareth Thomas
Out now!