178. 1963: Fanfare for the Common Men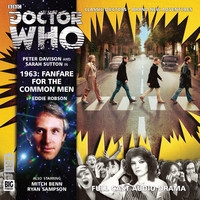 Released September 2013


Prices
| | |
| --- | --- |
| CD | US $23.34 |
| Download | US $12.99 |


Synopsis
If you remember the Sixties, they say, then you can't have been there.
The Doctor remembers the Sixties. That's why he's taking Nyssa on a trip back to November 1963. Back to where it all began. Back to the birth of the biggest band in the history of British music. Back to see those cheeky lads from Liverpool...
Mark, James and Korky. The Common Men. The boys who made the Sixties swing with songs like Oh, Won't You Please Love Me?, Just Count To Three and Who Is That Man.
The Doctor remembers the Sixties. And there's something very wrong with the Sixties, if the Beatles no longer exist…
Written By: Eddie Robson
Directed By: Barnaby Edwards
Cast
Peter Davison (The Doctor), Sarah Sutton (Nyssa), Mitch Benn (Mark Carville), Andrew Knott (James O'Meara), David Dobson (Korky Goldsmith), Ryan Sampson (Lenny Kruger), Alison Thea-Skot (Rita/Sadie), Jonty Stephens (Paravatar)
SUBSCRIBERS GET MORE AT BIGFINISH.COM...
A twelve or six month subscription to the main range means you pay 30% less.
12 month CD subscription = £130
12 month download subscription = £109.
If your subscription includes a December release up to 2013, you get a free subscriber special release (December 2012's subscriber special was Night of the Stormcrow, starring Tom Baker and Louise Jameson).
You'll be able to download, for free, at least four subscriber special audiobook Doctor Who releases a year.
You'll be able to download a free PDF of the production's script. These will appear in your account when they are made available, typically after the release date.
You'll be able to download extra behind-the-scenes audio material. This will appear in your account when it is made available.
With a 12-release subscription, you will be entitled to choose a free single-disc CD under £10.99 from any of our ranges, and you will be entitled to a discount of £5 off subscriptions to other ranges.