2.04. Crime of the Century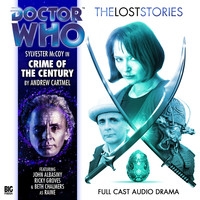 Released May 2011


Prices
CD
US $7.56
Download
US $2.99

Web Special Price!



Synopsis
The year is 1989. In London, safe cracker Raine Creevy breaks into a house – and finds more than the family jewels.
In the Middle East, the kingdom of Sayf Udeen is being terrorised by Soviet invaders and alien monsters.
And on the Scottish border, a highly guarded facility contains an advanced alien weapon.
These are all part of the Doctor's masterplan. But masterplans can go awry…
Written By: Andrew Cartmel
Directed By: Ken Bentley
Cast
Sylvester McCoy (The Doctor), Beth Chalmers (Raine Creevy), Ricky Groves (Markus Creevy), Derek Carlyle (Nikitin/Parvez), John Albasiny (Colonel Felnikov/Party Guest/Waiter), John Banks (Metatraxi/Walnuf/Gunman), Chris Porter (Sayf Udeen/Valentin)