164. Gods and Monsters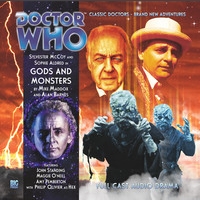 Released September 2012


Prices
| | |
| --- | --- |
| CD | US $23.34 |
| Download | US $12.99 |


Synopsis
The TARDIS travellers arrive in a bizarre landscape seemingly immune to the physical laws governing the rest of the universe. Ace, Hex, Sally and Lysandra battle to rescue the Doctor from the trap he's walked into… soon realising that the odds are stacked against them.
Because the Doctor is playing an old adversary again: Fenric, shatterer of worlds. But the gods and monsters who inhabit this strange realm loaded the dice against them long ago, in the dim and distant past – and defeat's their only option.
Written By: Mike Maddox and Alan Barnes
Directed By: Ken Bentley
Cast
Sylvester McCoy (The Doctor), Sophie Aldred (Ace), Philip Olivier (Hex), Maggie O'Neill (Captain Lysandra Aristedes), Amy Pemberton (Private Sally Morgan), John Standing (Fenric), Blake Ritson (Hurmzid), Gus Brown (Weyland), Tim Treloar (The Ancient One)
SUBSCRIBERS GET MORE AT BIGFINISH.COM...
A twelve or six month subscription to the main range means you pay 30% less.
12 month CD subscription = £130
12 month download subscription = £109.
If your subscription includes a December release up to 2013, you get a free subscriber special release (December 2011's subscriber special was The Five Companions, starring Peter Davison, Sarah Sutton, William Russell, Jean Marsh, Peter Purves and Anneke Wills).
You'll be able to download, for free, at least four subscriber special audiobook Doctor Who releases a year.
You'll be able to download a free PDF of the production's script. These will appear in your account when they are made available, typically after the release date.
You'll be able to download extra behind-the-scenes audio material. This will appear in your account when it is made available.
With a 12-release subscription, you will be entitled to choose a free single-disc CD under £10.99 from any of our ranges, and you will be entitled to a discount of £5 off subscriptions to other ranges.