162. Protect and Survive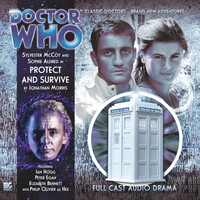 Released July 2012


Prices
| | |
| --- | --- |
| CD | US $23.34 |
| Download | US $12.99 |


Synopsis
If an attack with nuclear weapons is expected, you will hear the air attack warning. If you are not at home, but can get there within two minutes, do so. If you are in the open, take cover in the nearest building. If you cannot reach a building, lie flat on the ground and cover your head and your hands.

Arriving in the North of England in the late 1980s, Ace and Hex seek refuge at the home of Albert and Peggy Marsden... in the last few hours before the outbreak of World War Three.

Meanwhile, the Doctor is missing. Will there be anyone left for him to rescue, when the bombs begin to fall?
Written By: Jonathan Morris
Directed By: Ken Bentley
Cast
Sylvester McCoy (The Doctor), Sophie Aldred (Ace), Philip Olivier (Hex), Ian Hogg (Albert), Elizabeth Bennett (Peggy), Peter Egan (Moloch/Announcer)
SUBSCRIBERS GET MORE AT BIGFINISH.COM...
A twelve or six month subscription to the main range means you pay 30% less.
12 month CD subscription = £130
12 month download subscription = £109.
If your subscription includes a December release up to 2013, you get a free subscriber special release (December 2011's subscriber special was The Five Companions, starring Peter Davison, Sarah Sutton, William Russell, Jean Marsh, Peter Purves and Anneke Wills).
You'll be able to download, for free, at least four subscriber special audiobook Doctor Who releases a year.
You'll be able to download a free PDF of the production's script. These will appear in your account when they are made available, typically after the release date.
You'll be able to download extra behind-the-scenes audio material. This will appear in your account when it is made available.
With a 12-release subscription, you will be entitled to choose a free single-disc CD under £10.99 from any of our ranges, and you will be entitled to a discount of £5 off subscriptions to other ranges.