184. Scavenger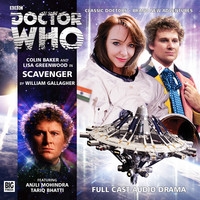 Out in March 2014
Prices
| | |
| --- | --- |
| Pre-order CD | US $23.99 |
| Pre-order Digital | US $12.99 |

Synopsis
Thursday 28 May 2071: the day the Anglo-Indian Salvage 2 rocket launches. Its mission: to clean up space; to remove from Earth's orbit over a century's worth of man-made junk…
From the viewing window of a nearby space station, the Doctor and Flip have a unique view of Salvage 2 as it sets about its essential task – and of the disaster that unfolds when Salvage 2 encounters something it's not been programmed to deal with. Something not of human manufacture…
Back on Earth, the Doctor fights to save Flip from becoming part of a 500-year tragedy being played out in orbit, hundreds of miles above. And millions will die if he fails.
Written By: William Gallagher
Directed By: Nicholas Briggs
Cast
Colin Baker (The Doctor), Lisa Greenwood (Flip Jackson), Anjli Mohindra (Jyoti Cutler), Tariq Bhatti (Salim), Kate McEwen (Jessica Allaway), Tania Rodrigues (Anarkali/Melissa/Isra Tech #2), John Banks (Commander Gabbard/Scavenger/Isra Tech #1/Security Guy)
SUBSCRIBERS GET MORE AT BIGFINISH.COM...
A twelve or six month subscription to the main range means you pay less.
12 month CD subscription = £140
Lowers the cost from £14.99 to £11.66 per release.
12 month download subscription = £115. For CDs, the subscription
Lowers the cost from £12.99 to £9.58 per release.
If your subscription includes a December release, you get a free subscriber special release (December 2012's subscriber special was Night of the Stormcrow, starring Tom Baker and Louise Jameson). If the subscriber special release has been announced, details of this will appear during the subscriber order process.
You'll be able to download, for free, at least four subscriber special audiobook Doctor Who releases a year.
You'll be able to download a free PDF of the production's script. These will appear in your account when they are made available, typically after the release date.
You'll be able to download extra behind-the-scenes audio material. This will appear in your account when it is made available.
With a 12-release subscription, you will be entitled to choose a free single-disc CD under £10.99 from any of our ranges, and you will be entitled to a discount of £5 off subscriptions to other ranges.