175. Persuasion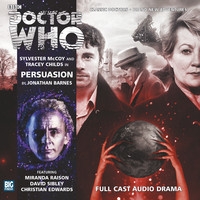 Released July 2013


Prices
| | |
| --- | --- |
| CD | US $23.48 |
| Download | US $12.99 |


Synopsis
The Umbrella Man is back. But when the Doctor recruits UNIT's Scientific Adviser Elizabeth Klein for an off-the-books mission to the apocalyptic final days of Hitler's Germany, he isn't expecting Klein's hapless young assistant, Will Arrowsmith, to be joining them too.
The Doctor isn't the only alien creature seeking to loot a very particular secret from a Nazi base in Dusseldorf, however. Strange and sinister beings are converging on the same time/space location in search of the scientist Schalk, whose experiments are the key to a devastating power...
The power of Persuasion.
Written By: Jonathan Barnes
Directed By: Ken Bentley
Cast
Sylvester McCoy (The Doctor), Tracey Childs (Dr Elizabeth Klein), Christian Edwards (Will Arrowsmith), David Sibley (Kurt Schalk), Jonathan Forbes (Lukas Hinterberger), Paul Chahidi (The Shepherd/Bondsman Tango-Veldt), Miranda Raison (The Shepherdess/Acquisitor Prime), Gemma Whelan (Casta/The Sylph/Khlecht)
SUBSCRIBERS GET MORE AT BIGFINISH.COM...
A twelve or six month subscription to the main range means you pay 30% less.
12 month CD subscription = £130
12 month download subscription = £109.
If your subscription includes a December release up to 2013, you get a free subscriber special release (December 2012's subscriber special was Night of the Stormcrow, starring Tom Baker and Louise Jameson).
You'll be able to download, for free, at least four subscriber special audiobook Doctor Who releases a year.
You'll be able to download a free PDF of the production's script. These will appear in your account when they are made available, typically after the release date.
You'll be able to download extra behind-the-scenes audio material. This will appear in your account when it is made available.
With a 12-release subscription, you will be entitled to choose a free single-disc CD under £10.99 from any of our ranges, and you will be entitled to a discount of £5 off subscriptions to other ranges.