4.0. The Judgement of Sherlock Holmes Boxed Set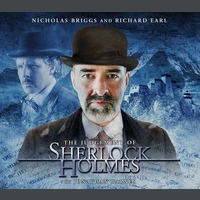 Out in December
Prices
Pre-order CD
US $39.89
Pre-order Digital
US $20.00

Web Special Price!


Synopsis
'Briggs and Earl now a definitive audio Holmes and Watson' Scifi Bulletin
'Nicholas Briggs and Richard Earl are, as ever, sublime in the roles that they have made their own' Tim, Mass Movement
'Messrs Briggs, Earl and Barnes, director Ken Bentley and the rest of the fine cast are to be congratulated' Roger Johnson, Sherlock Holmes Gazette
'Nicholas Briggs and Richard Earl, now a firmly established team...' Sherlock Holmes Journal.
Sherlock Holmes had many secrets. This is the greatest of them.
Our knowledge of the life and career of Mr Sherlock Holmes is necessarily partial and inexact. Riddled with lacunae and ambiguities, its parameters are defined chiefly by what his friend and colleague, Dr John Watson, saw fit to record. One era in particular – those enigmatic years in which, believed dead at the Reichenbach Falls, the Great Detective roved the world incognito – has been shrouded in obscurity and doubt, the particulars of that time too terrible and too strange to be set down in full.
At least, that is, until now…
Part One: Poppyland
It is October, 1921. Dr John Watson, now almost seventy, has accustomed himself to a life of retirement. He is surprised, then, to encounter his old friend, Mr Sherlock Holmes, rising out of the early evening mist like a wraith. There are things they have to discuss, he says, matters from the distant past. It is important, he says, that Watson hears at last a full account of what happened to Holmes during his years away from England when, believed by the world to be dead following his battle with Professor Moriarty, he travelled incognito overseas…
Part Two: At the Gates of Shambhala
Part Three: The Man in the Moonlight
Part Four: The Tragedy of Pargetter Square
Written By: Jonathan Barnes
Directed By: Ken Bentley
Cast
Nicholas Briggs (Sherlock Holmes/Sherrinford Holmes), Richard Earl (Dr Watson), John Banks (Inspector Lestrade, Colonel Sebastian Moran), Tim Bentinck (Mycroft Holmes), Gemma Whelan (Mary Watson), Jemma Churchill (Helena Eidelmann), Terrence Hardiman (Dr Esau Thorne), Nicholas Chambers (The Reverend Samuel Griffiths), Joannah Tincey (Miss Jessica Hendrick), Dai Tabuchi (Dorje), David Killick (Lord Colney, The Earl of Pettigree)