2.03. Thin Ice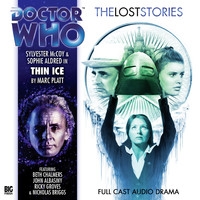 Released April 2011


Prices
CD
US $7.56
Download
US $2.99

Web Special Price!



Synopsis
Moscow 1967. The Doctor and Ace have arrived behind the Iron Curtain, and the Soviet Union is seeking a new weapon that will give it mastery in the Cold War.
What is the secret of the Martian relics? As the legendary War Lord Sezhyr returns to life, the Doctor is faced with some of his oldest and deadliest enemies.
The fate of Earth – and the future of Ace – are now intertwined...
Written By: Marc Platt
Directed By: Ken Bentley
Cast
Sylvester McCoy (The Doctor), Sophie Aldred (Ace), Ricky Groves (Markus Creevy), Beth Chalmers (Lt Raina Kerenskaya/Sezhyr), Nicholas Briggs (Hhessh), John Albasiny (Major Maxim Alexandrovitch Felnikov), Nigel Lambert (Adjudicator/Vitali Semyonovitch Wolshkin/Glarva), John Banks (Yevgeni/Yasha Lemayev)