2.3. The Black Hole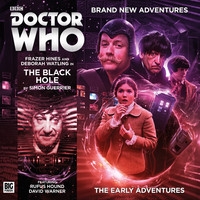 Out in November
Prices
| | |
| --- | --- |
| Pre-order CD | US $22.81 |
| Pre-order Digital | US $10.99 |

Synopsis
On a research station near a black hole, time keeps standing still. Investigating the phenomenon, the Doctor discovers a power far greater than any of the monsters that challenge him on his travels...
Written By: Simon Guerrier
Directed By: Lisa Bowerman
Cast
Frazer Hines (Jamie McCrimmon/The Doctor), Deborah Watling (Victoria Waterfield), Rufus Hound (Constable Pavo), Janet Dibley (Commander Flail), Anthony Keetch (The Seeth). Narrated by David Warner.