A Christmas Carol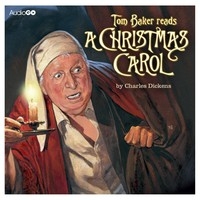 Released December 2012
Synopsis
A new, unabridged reading of the Charles Dickens classic featuring the sonorous and expressive voice of Tom Baker (Doctor Who).
Ebenezer Scrooge refuses to accept that Christmas is a time for peace and goodwill to all men. Those less fortunate than him are charitable, but Scrooge remains set in his curmudgeonly ways. One Christmas Eve, however, his outlook begins to change with a visit from the ghost of his deceased business partner, Jacob Marley.
Marley's ghost forewarns Scrooge of three other spirits who will come to haunt him that night - the ghosts of Christmas Past, Christmas Present and Christmas Yet to Come. Accompanied by these, Scrooge is granted first a glimpse of his own past and then an insight into the home life of his poor yet loyal clerk, Bob Cratchit.
Scrooge looks on with something approaching pity as the Cratchits, gather around a paltry table to celebrate the festive season. Is the sight of others' hardships, coupled with a dark vision of what the future may hold, enough to make Scrooge see the folly of his ways?
Written By: Charles Dickens

Cast
Tom Baker