2.1. Mother Russia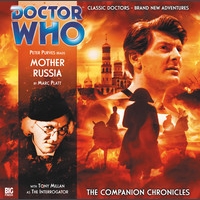 Released October 2007


Prices
| | |
| --- | --- |
| CD | US $13.97 |
| Download | US $7.99 |

Synopsis
Special Offers
Existing subscribers to the Monthly Doctor Who releases from Big Finish can claim and additional £5.00 discount. The £5 will be refunded to your card within 28 hours after your order.
What the Papers are Saying:
"Old school Doctor Who at its best. So good, you'd swear you saw this one on TV" - Total Sci-Fi

Synopsis
It's 1812 and the Doctor, Steven and Dodo get ready to spend their winter in a Russian village. The French are on their way, but that's not the only invasion the travellers will have to deal with.


Written By: Marc Platt
Directed By: Nigel Fairs
Cast
Peter Purves (Steven Taylor), Tony Millan