Page 1 of 1, showing 1 to 5 of 5 results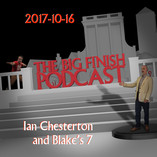 15 October 2017
Nick and Benji present cow bells, roast potatoes and all the latest audio drama from Big Finish Productions. Guest star: Jamie Glover (Ian Chesterton). Drama tease: Blake's 7: Crossfire Part 1.
Listen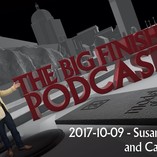 8 October 2017
Nick and Benji are back in front of the microphones together! All the latest news, Listeners' Emails and 'My Life In Big Finish'... Guest star: Claudia Grant (Susan in the First Doctor Adventures). Drama Tease: The Tony and Cassandra Mysteries (Dark Shadows). Special appearance: Richard Armitage.
Listen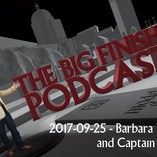 24 September 2017
Nick and Benji present another packed podcast. Jamie Anderson talks about Captain Scarlet's 50th anniversary. Guest star: Jemma Powell (Doctor Who companion Barbara Wright). Drama tease: The Spectrum Files.
Listen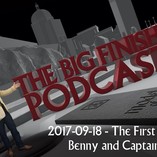 17 September 2017
Nick and Benji present a bonanza of Big Finish goodies. The First Doctor cast feature in studio. Guest star: Lisa Bowerman (Bernice Summerfield). Drama tease: Captain Scarlet and the Mysterons.
Listen
23 April 2017
Nick Briggs and Benji Clifford present all the latest news from the Big Finish world of audio drama, naturally including Doctor Who. Number Six is interviewed and Torchwood - The Dollhouse is previewed.
Listen
Page 1 of 1, showing 1 to 5 of 5 results