Charlotte Pollard - All Items
Page 1 of 1, showing 1 to 2 of 2 results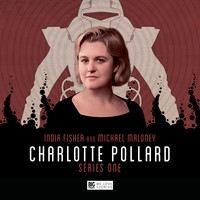 Released May 2014
| | |
| --- | --- |
| CD | US $38.65 |
| Download | US $25.00 |
Starring India Fisher, Anneke Wills, Terrence Hardiman and Michael Maloney
'Showcases Big Finish's talent for space opera...' Paul Simpson SFB
Charlotte Pollard's adventures are over. She escaped death aboard the R1...
Released March 2017
CD
US $32.21
Download
US $20.00

Web Special Price!

Starring India Fisher
This title was released in March 2017. It will be exclusively available to buy from the BF website until April 30th 2017, and on general sale af...
Page 1 of 1, showing 1 to 2 of 2 results