211. And You Will Obey Me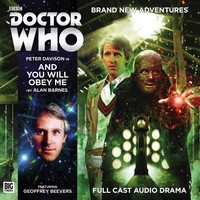 Released April 2016


Prices
CD
US $19.75
Download
US $12.99

Web Special Price!



Synopsis
'Yet another triumph for the main range, beautifully constructed plot mechanics, excellently acted, tightly directed... a quite "Masterful" 10/10' Planet Mondas
'A brilliant story, a brilliant addition to the whole of the main range and I would totally recommend,.' Tin Dog Podcast
'Here we have the Fifth Doctor and the Master as they always should have been. Friends, enemies, rivals, and – whisper it and be consumed in fire – brothers all rolled into one. To finally have a Fifth Doctor/Master story that works hard to go beyond surface-deep story telling is incredibly refreshing and lots of fun to listen to,' Doctor Who Companion
The Master: wanted for crimes without number, across five galaxies.
The Master: escaped his pursuers. Last known location: rural Hexford, England, Earth.
The Master: dead and buried in an unmourned grave, in a lonely churchyard.
Apparently.
Written By: Alan Barnes
Directed By: Jamie Anderson
Cast
Peter Davison (The Doctor), Geoffrey Beevers (The Master), Sheena Bhattessa (Annie), Alex Foley (Colin), Peta Cornish (Helen/Jade Nymph), Russ Bain (Mikey/Grigor), Tessa Coates (Janine), Nick Ellsworth (Gomphus/Auctioneer). Other parts portrayed by the cast.
Producer David Richardson
Script Editor Alan Barnes
Executive Producers Jason Haigh-Ellery and Nicholas Briggs