2.4. Kingdom of the Dead Part 4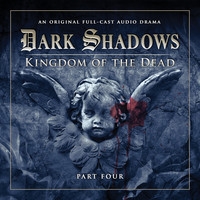 Released October 2010



Synopsis
"Everything's unravelling. Soon he'll come for us… and he won't stop."

The Lorelei has gone and Barnabas and Quentin are missing, presumed dead. As Willie attempts to protect Maggie from the sheriff's investigations, Angelique begins to uncover the truth about Barnabas and Quentin's fate. But a powerful force is waiting in the wings, and its arrival in Collinsport will soon change the lives of everyone forever…

PLEASE NOTE: THIS RELEASE IS CURRENTLY OUT OF STOCK ON CD, but is still available on CD in the Kingdom of the Dead box set.
Written By: Stuart Manning and Eric Wallace
Directed By: Darren Gross
Cast
David Selby (Quentin Collins), Lara Parker (Angelique), Kathryn Leigh Scott (Maggie Evans), John Karlen (Willie Loomis), Jerry Lacy (Reverend), Andrew Collins (Barnabas Collins), David Warner (Seraph), Ursula Burton (Susan Griffin), Jamison Selby (Ed Griffin), Nancy Barrett (Carolyn Stoddard), Marie Wallace (Mrs Griffin), Eric Wallace (Conductor)