129. Plague of the Daleks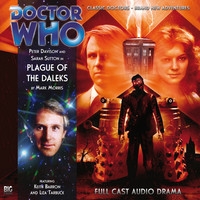 Released December 2009


Prices
CD
US $8.40
Download
US $5.00

Web Special Price!



Synopsis
Stockbridge used to be such a lovely place. The loveliest village in all England, according to the guide books. But hardly anyone visits Stockbridge now: a few tourists, a couple of Trust guides, the odd beady-eyed raven.

But something is coming to Stockbridge. Something which turns village cricketers into ravening zombies – a plague such as the Earth has never seen, falling through history from a time when humanity's greatest enemy was a race known as the Daleks.

The Doctor and Nyssa visit Stockbridge for the final time, to confront the terrible secret buried at its heart. The storm clouds are gathering…

Written By: Mark Morris
Directed By: Barnaby Edwards
Cast
Peter Davison (The Doctor), Sarah Sutton (Nyssa), Keith Barron (Isaac Barclay), Liza Tarbuck (Lysette Barclay), Richenda Carey (Alexis Linfoot), Barry McCarthy (Vincent Linfoot), Richard Cordery (Professor Rinxo Jabbery), Susan Brown (Mrs Withers/Mrs Sowerby/Computer Voice), Nicholas Briggs (Cricketer/Dobson)
Main Doctor Who range subscribers whose subscription includes this title will receive the complete Doctor Who audio drama An Earthly Child absolutely free. The adventure is written by Marc Platt and stars Paul McGann as the Eighth Doctor and Carole Ann Ford as Susan. An Earthly Child will be available to buy separately from December 2010.
____________________________________________________________________
BONUS EPISODE! THE COMPANION CHRONICLES: THE THREE COMPANIONS
Brewster's Story by Marc Platt: As Polly and the Brigadier become acquainted with Thomas Brewster, chaos erupts. UNIT troops are on the streets of London and the Hunter is on the prowl…