166. The Acheron Pulse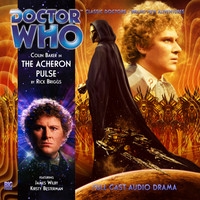 Released October 2012


Prices
| | |
| --- | --- |
| CD | US $19.74 |
| Download | US $12.99 |


Synopsis
The planet Cawdor. Deep in the heart of the Drashani Empire.
The Doctor lands thirty years after the Succession of Blood brought Empress Cheni to the throne. For most of her reign there has been peace and prosperity. The Empire flourished. But five years ago, the War came. And nothing was ever the same again. Now the Drashani are at war with the mysterious alien race known as the Wrath, led by the Warlord Tenebris. As more and more planets fall to their advance events are rushing to a head.
What exactly does Tenebris want? What is the secret of the Wrath's weapon, the terrifying Acheron Pulse? As the Doctor races to save an Empire, he may not like the answers he finds.
Written By: Rick Briggs
Directed By: Ken Bentley
Cast
Colin Baker (The Doctor), James Wilby (Tenebris), Joseph Kloska (Dukhin), Jane Slavin (Teesha), Chris Porter (Vincol), John Banks (Boritz), Chook Sibtain (Athrid), Carol Noakes (Olerik)
SUBSCRIBERS GET MORE AT BIGFINISH.COM...
A twelve or six month subscription to the main range means you pay less.
If your subscription includes a December release, you get a free subscriber special release (December 2012's subscriber special was Night of the Stormcrow, starring Tom Baker and Louise Jameson). If the subscriber special release has been announced, details of this will appear during the subscriber order process.
You'll be able to download, for free, at least four subscriber special audiobook Doctor Who releases a year.
You'll be able to download a free PDF of the production's script. These will appear in your account when they are made available, typically after the release date.
You'll be able to download extra behind-the-scenes audio material. This will appear in your account when it is made available.
You will be entitled to choose a free CD from any of our ranges.
You will be entitled to a discount of £5 off subscriptions to other ranges.