6. The Avengers: The Lost Episodes Volume 06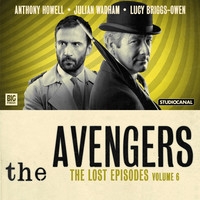 Released July 2016


Prices
| | |
| --- | --- |
| CD | US $32.93 |
| Download | US $20.00 |

Synopsis
Steed and Dr Keel return to action in these three recreations of classic lost episodes.
6.1 The Frighteners by Berkeley Mather, adapted by Rae Leaver
If you need someone scared off, you speak to the Deacon.
Steed and Keel are on the trail of an intimidation expert whose services have recently been acquired by a wealthy businessman. But as they head deeper and deeper into this seedy world, who do they really have to stop. And who do they have to save?
6.2 Death on the Slipway by Ian Potter, from a storyline by James Mitchell
When a fellow agent is killed, Steed is sent undercover at a government dockyard to find the killer. Can he sort the truth from the lies and track down the enemy infiltrator hunting for top secret plans before it's all too late?
6.3 Tunnel of Fear by John Dorney, from a storyline by John Kruse
Southend. A perfect spot for a family holiday - or for a traitor to hide.
Somewhere in the town lurks a spy ring that is smuggling out classified information. When his old mole is attacked, and with innocent lives at risk, Steed takes Keel to the seaside for a far from sunny time.
Written By: Adapted by John Dorney, Rae Leaver, Ian Potter
Directed By: Ken Bentley
Cast
Anthony Howell (Dr Keel), Julian Wadham (John Steed), Lucy Briggs-Owen (Carol Wilson), Hugh Ross (Sir Thomas Weller), Eve Webster (Marilyn Weller), Michael Lumsden (The Deacon), Laurence Spellman (Moxon), Chris Pavlo (Nature Boy), Ferdy Roberts (Kolchek), Jon Culshaw (Sir William Bonner), Niky Wardley (Liz Wells), Barnaby Edwards (Sam Pearson), Dan Starkey (One-Ten), Pete Collis (Harry Black), Charlotte Strevens (Mrs Black), Amy Embank (Claire), Tony Turner (Wickram), Charles Davies (Maxie Lardner). Other parts played by members of the cast.