1. The First Doctor Adventures Volume 01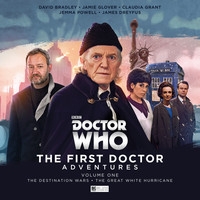 Released December 2017


Prices
CD
US $32.08
Download
US $20.00

Web Special Price!


Synopsis
"10/10. The First Doctor promised to come back one day, and it's great he's done it in such a tour de force!" - Blogtor Who
"If you want to hear the First Doctor written correctly, and performed brilliantly, then I would recommend this without a shadow of a doubt (on The Destination Wars). This box set of First Doctor Adventures has made me see the original in a whole new light, and I can't wait for the next volume in July!" - Gallifrey Archive
"With so many layers it really is a wonderful job...This really is all you want in a First Doctor set." Indie Mac User
"9/10 Overall, this set delivers on almost every level." - Big Blue Box podcast
"It all just works brilliantly. Big Finish have, again, used their vast reserves of professionalism and love to produce something amazing – an homage to the original world-builders that builds new worlds of its own. Genuinely, I can't wait for volume two." - Outpost Skaro
"A very brave move by Big Finish that has paid dividends – authenticity from there scripts, professionalism in the new interpretation of the leads, pacy direction and excellent sound design, I cannot wait volume 2 to find out how things proceed. 9/10." - Planet Mondas
"'The Destination Wars' portrays the Master at his most dangerous" - Doctor Who Reviews
"A really promising start to a whole new era of full cast Doctor Who early adventures, futuristic human cities in space & an American gang rivalry historical, its 60's Doctor Who summarised within two stories" - The Host Productions
"James Dreyfus is instantly one of the Best Masters of all time. An inspired performance in a classic audio." - Tin Dog
"5/5 It might not seem the most obvious of ideas, but this is Big Finish and it works superbly." Cultbox
"After almost 20 years of audio production and almost 2000 Doctor Who episodes, Big Finish have managed to create something quite magical: stories which look backwards but are also refreshingly, inspiringly new. What a thrill." Doctor Who Vews
1.1 The Destination Wars by Matt Fitton
The TARDIS arrives in a gleaming utopia in the Space Year 2003. Has the Doctor truly brought Ian and Barbara home, to glimpse their future?
The world owes much to its legendary Inventor, and Susan finds herself face to face with the great benefactor. But soon, the time travellers are in a world at war and the Doctor must confront his past.
1.2 The Great White Hurricane by Guy Adams
Rival gangs turn streets into battlegrounds, and the Doctor and his friends are caught in the crossfire. They find themselves separated, and lost in the cold.
As the hunt for a fugitive turns ever more desperate, a blizzard descends. The snow keeps falling. And soon it will prove as deadly as any weapon...
Producer David Richardson
Script Editor John Dorney
Executive Producers Jason Haigh-Ellery and Nicholas Briggs
Written By: Matt Fitton, Guy Adams
Directed By: Nicholas Briggs
Cast
David Bradley (The Doctor), Claudia Grant (Susan), Jemma Powell (Barbara Wright), Jamie Glover (Ian Chesterton), James Dreyfus (The Master), Raymond Coulthard (Robac / Servers / Dalmari), Sian Reeves (Tanna), Deli Segal (Reena), Jackson Milner (Patrick), Cory English (Daniel), Carolina Valdes (Rosalita), Ronan Summers (O'Connell), Christopher Naylor (Policeman / Man with Ladder / Gang Member / Henry). Other parts played by members of the cast.