103. The Girl Who Never Was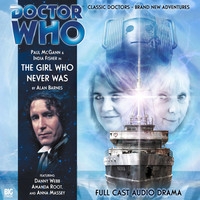 Released December 2007


Prices
CD
US $8.39
Download
US $5.00

Web Special Price!



Synopsis
'Dot dot dot, dash dash dash, dot dot dot. Someone's listening. Somewhere.'
A ghost ship. A girl with no memory, adrift in time. An old enemy. This could be Charlotte Pollard's finest hour - or her last.
Set course for Singapore, 1931. Journey's end.
Written By: Alan Barnes
Directed By: Barnaby Edwards
Cast
Paul McGann (The Doctor); India Fisher (Charley Pollard); Danny Webb (Byron); Anna Massey (Miss Pollard); Amanda Root (Madeleine Fairweather); David Yip (Curly); Robert Duncan (Borthwick); Natalie Mendoza (Receptionist); Tim Sutton (Colville), Jake McGann (Young Man); Nicholas Briggs (Soldier)