11. The Shape of Things to Come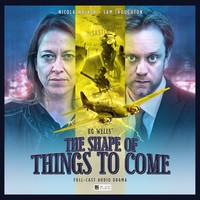 Released May 2017


Prices
| | |
| --- | --- |
| CD | US $19.33 |
| Download | US $12.99 |

Synopsis
'I really felt on the edge of my seat wanting to know where the story was going through its many exquisite twists and turns. I have loved all the audio books in this range and this is no exception. 10/10' - IndieMacUser
'There are some incredible ideas here - I for one could not see how you could make this. But Guy Adams has come up trumps.' - Tin Dog Podcast

Every action has consequences. One confrontation, one punch, one bullet – something as simple as a gesture on a train – all can change the course of history.
British diplomat Dr Philip Raven knows the world is on a knife edge. But he is about to see how history might have played out differently. How there could be a better future for those who dare to grasp it.
An emissary from that future has come to show him… The Shape of Things to Come.
Producer David Richardson
Script Editor Matt Fitton
Executive Producers Jason Haigh-Ellery and Nicholas Briggs
Written By: HG Wells, dramatised by Guy Adams
Directed By: Lisa Bowerman
Cast
Nicola Walker (Jane), Sam Troughton (Dr Philip Raven), Ewan Bailey (Arden Essende), Simon Greenall (Hooper Hamilton), Eve Webster (Moira Caruso/ Anna), Duncan Wisbey (Titus Cobbett), Stuart Milligan (Benito Caruso). Other parts played by members of the cast.