6. UNIT - Cyber-Reality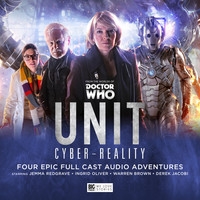 Out in May
Prices
Pre-order CD
US $32.26
Pre-order Digital
US $20.00

Web Special Price!


Synopsis
Kate Stewart and her UNIT team investigate and confront alien attacks on the planet Earth in this new 5 disc boxset:

6.1 Game Theory by Matt Fitton
6.2 Telepresence by Guy Adams
6.3 Code Silver by Guy Adams
6.4 Master of Worlds by Matt Fitton
Deploying May 2018
Written By: Matt Fitton, Guy Adams
Directed By: Ken Bentley
Cast
Jemma Redgrave (Kate Stewart), Ingrid Oliver (Osgood), James Joyce (Captain Josh Carter), Ramon Tikaram (Colonel Shindi), Warren Brown (Sam Bishop), Derek Jacobi (The War Master) and Nicholas Briggs (The Cybermen). Other parts played by members of the cast.
Producer David Richardson
Script Editor Guy Adams, Matt Fitton
Executive Producers Jason Haigh-Ellery and Nicholas Briggs