Yes Minister/Yes Prime Minister (Collector's Pack)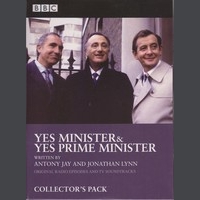 Released September 2010
Synopsis
This title is now out of print.
A collection of radio episodes of classic BBC sitcom Yes Minister and TV soundtracks of Yes Prime Minister.
Yes Minister Original Radio Episodes
Disc One
Big Brother
Hacker seeks support from the opposition in order to overcome the opposition of his support. Hacker and Humphrey battle it out over Hacker's proposal to restrict civil servant access to a powerful information database.
The Economy Drive
In his quest to trim government waste, Jim Hacker implements an economy drive that ends up driving him out into the rain and straight into Sir Humphrey's hands.
Disc Two
Jobs for the Boys
Hacker discovers one of the shining examples of a public-private partnership is tarnished by favouritism which he vows to eliminate –until he needs favours of his own.
The Right to Know
A change in the proposed land use of a badger area could lead to some startling exposure, unless Sir Humphrey can manage to keep Jim Hacker's family affairs under control.
Disc Three
The Greasy Pole
James Hacker learns the difficulty of keeping one's hands clean while climbing the greasy pole.
His problems begin when he must decide whether to approve metadioxin emissions. Toxic waste is such a tricky business!
The Skeleton in the Cupboard
The Government will lose £40 million due to a mistake made thirty years ago. Who could make such a howler?
PLUS: Yes Minister Special
The Funny Side of… Christmas: A special Christmas sketch presented by Frank Muir. First broadcast on BBC1 on 27/12/1982
Yes Prime Minister Original TV Soundtracks
Disc Four
The Ministerial Broadcast
As Jim is coached and groomed for a television discussion of his new defence policy, Sir Humphrey is more concerned with what he says than how he says it.
A Victory for Democracy
Is the Foreign Office carrying out government policy? Or is the government there to carry out Foreign Office policy? Hacker is about to find out…
Disc Five
The Bishop's Gambit
The PM has to recommend the appointment of a new bishop to the Queen – but it's not an easy choice for Jim Hacker.
One of Us
The recently deceased Head of MI5 has been passing government secrets to Moscow – worse still, Sir Humphrey headed the Committee of Enquiry…
Disc Six
Official Secrets
The former PM's memoirs have to be scrutinized for security reasons. But Jim realises that they will make him look bad and he tries to suppress their publication.
A Diplomatic Incident
The death of the former PM provides Jim Hacker some leverage over negotiations with the French about the Channel Tunnel.
Written By: Anthony Jay and Jonathan Lynn
Directed By: Various
Cast
Paul Eddington (Jim Hacker), Nigel Hawthorne (Sir Humphrey Appleby), Derek Fowlds (Bernard Woolley)