168. 1001 Nights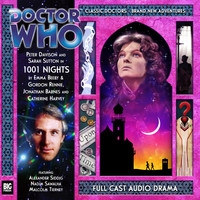 Released December 2012


Prices
| | |
| --- | --- |
| CD | US $19.33 |
| Download | US $12.99 |


Behind the Scenes
Peter Davison spoke to Vortex #46, with excerpts of the interview presented here. The full interview can be found HERE.
Hello Peter. This month you're in 1001 Nights. Are you familiar with the concept?
You mean as in 1001 Arabian Nights? Well, I was from my childhood, yes, but I don't think I've gone back to it since then. So only very vaguely. It's one of those things, you know exactly what it is but I can't recall ever really reading it, except maybe in a very basic children's form.
How's your new son-in-law, David Tennant?
I'll knock him into shape over the course of the next couple of years; everything will be all right. Make sure he knows his place. [laughs] He's fine! He's working a lot. But it's nice to see him because their daughter [David's with Peter's daughter, Georgia Moffett], Olive, she's about a year-and-a-half now and she's just coming out into her own, and he's clearly devoted to her. It's nice to have them around from time to time.
So Georgia isn't finding this weird yet, having both a father and a husband a former Doctor?
No, I don't think she is, really! I think it's part of the reason why they got on so well to begin with, that she wasn't at all fazed by him being the Doctor because she grew up with it, so she was very calm and very casual about it. It is a little weird, when you sit and you think about it! When I gave my speech at the wedding, I expostulated that clearly, somewhere down the line, she ended up marrying her own father. But we didn't want to go into that.
No one has embraced Doctor Who quite the way you have, have they?
That's true, yes! There's the beginning of some kind of dynasty going on here.
Did you ever envisage all of this coming out of one show?
No, not at all! I remember thinking, 'Ooh, we could be doing conventions for a few more years' but you just have no idea, of course. Because videotape was in its infancy, I had no idea that everyone would have several different versions of every single story you did. That it would still be around in that way was not a thing that you thought was possible.
You've now finished your run on stage in the Legally Blonde musical. How was it?
I loved doing it, I loved being surrounded by the young cast. I was, by a long way, the oldest member of the cast, and a good proportion of the cast were very attractive ladies, who saw me, sadly, as a kind of avuncular figure rather than the centre of their universe – but nevertheless they were a very nice bunch of people and I enjoyed it immensely! I think probably I stayed in there a bit too long; I was in it for two-and-a-half years, and I think two years is about the limit. I enjoyed it right to the end but I just feel that in the last six months, it became too much of a job. Maybe that was because I knew I was leaving, I don't know. I love doing musical theatre. They look after you very nicely, because I think they're used to a much higher calibre of people in musical theatre.
You've also been doing some more radio, the pilot of Big Finish writer Eddie Robson's comedy show, Welcome to Our Village – Please Invade Carefully.
They've commissioned four episodes. I think it has potential; I look forward to that. Katherine [Parkinson] is great. And Julian [Rhind-Tutt], he was really good. I just pop in and out of it, but it's nice to be there. I've always with no problem, without any intention at all, managed to straddle that whole area of comedy and drama to a certain extent. Not at the far end of both. I'm not in the alternative comedies thing, and I'm not in the high prestige end of the drama thing. But I've always managed to go from one to another, so that's great.
You've even had your shirt off in Miranda.
That's true! And not only my shirt either! But less of that. [laughs] I knew a couple of people on it and knew [director] Juliet May and Miranda [Hart, writer and star] a bit and they just rang me up and said, 'Would you be interested in doing this?' And I think Miranda's great and fantastically funny, so it was very nice to work with her on that. I'm sort of doing what I never did before; I went from nothing to doing series television and I always said when I was being interviewed earlier in my career that I never did the bits and pieces that I used to see other people doing and was quite envious. Popping into things, doing a little character here, a little character there. And I now appear to be doing that. I'm doing everything back to front!
I went straight from doing stage into serious television, with All Creatures Great and Small, Doctor Who, A Very Peculiar Practice, but now I'm doing popping in and out. I'm doing a series in the autumn of Law & Order again, in which I'm graduating to the 'and'. I've been aware of this for some time; they say, 'It's Law & Order with such and such, such and such, such and such… and Peter Davison. Robert De Niro now, or Al Pacino, quite often does 'and'. So I think I'm in good company. I 'very kindly agreed to appear and raise the status of the programme by appearing in it, and so consequently we're gonna go "and"'. 'With' is not so good, you see. And I'm too old for 'introducing'.