178. 1963: Fanfare for the Common Men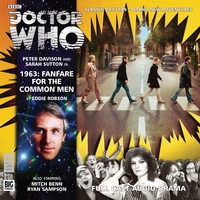 Released September 2013


Prices
| | |
| --- | --- |
| CD | US $19.95 |
| Download | US $12.99 |


Behind the Scenes
(Excerpt from Vortex issue 55, click here to DOWNLOAD)
Uncommon Benn
You may know him from Radio 4's The Now Show, you may have seen him on tour. But this month musician, comedian, writer and actor Mitch Benn is in 1963: Fanfare for the Common Men. Paul Spragg met up with him on Edinburgh's Fringe…
Hello Mitch! what's the big finish experience like for a guest star?
It's great fun. The thing about audio is you want to be able to act with each other but if you're all standing round the one mic, it makes it impossible to edit because you end up with a jumble of sound of everyone talking over each other. What they've very cleverly done at Big Finish is they have a ring of vocal booths, basically a bunch of little phone boxes, and all the actors go into one. What it means is, you actually get to play off each other like you're on stage with somebody but all the individual parts end up on a different vocal track, like you were recording vocals on a record. I'm sure it makes the editing a lot easier. But it's a completely unique set-up; I've never encountered that before.
This is the second one I've done; the first one I did [Army of Death] was with Paul [McGann] and Julie Cox [Mary Shelley] and this was with Peter [Davison] and Sarah Sutton [Nyssa], who are absolutely my era, incidentally. Peter and Sarah [appeared] when I was twelve, thirteen, which if you're ever gonna be a Doctor Who fan, that's probably the age at which it's most intense. And of course they both sound exactly like they did in the Eighties; when you're in the booth, it's not just Peter and Sarah, it's that Peter and Sarah that you see in your head. It's great fun and the atmosphere is great; [director] Barnaby [Edwards] is a great guy and they lay on this buffet for lunch, which is brilliant. It's quite epic, lunch at Big Finish.
How do your Doctors compare?
Paul is the most laidback person I've ever worked with. He sits around in the green room talking about things in that McCartney-esque voice of his, [then] in he goes and does everything in his Doctor Who voice and then sits down again. Insanely relaxed, Paul McGann. Peter's very, very affable. Peter was one of the first Doctors to be a proper established TV star before he got the job and he just seemed to slot straight back into that when he left. That's the thing about Peter; he's always been busy. But he was dead easy to work with.
I think Fanfare had a slightly idiosyncratic atmos because it was a Beatles thing as well as a Doctor Who thing. The plot is the Doctor goes to see The Beatles, The Beatles have been removed from history and replaced by a band who are The Beatles in everything but name. And one of the things that myself and the two other guys who are playing 'not The Beatles' tried to do is, there was a certain Beatles vibe – certainly to the Beatles' conversations – and we were trying to get that Beatle-y rhythm into the conversations. That's also something I'm trying to do in this Fringe show [the splendid Mitch Benn is the 37th Beatle – Ed], is get that weird sort of Beatle-y vibe.
[In Fanfare] I'm playing a character called Mark, who is John Lennon except he isn't. It's quite interesting actually, because the John character in particular develops in a proper sci-fi way; without giving anything away, proper sci-fi things happen to the Lennon character…
So your Fringe show was about The Beatles, Fanfare is about The Beatles – have you had enough Beatles yet?
At the age of 43, if I've not had enough Beatles yet, I don't think it's coming, you know what I mean? I grew up drenched in Beatledom; I was born in Liverpool about a week before The Beatles split up, I think. My parents did know them in the Fifties. My mum in particular grew up with them and did kind of know them in the Fifties. Saw them a bunch of times when they were The Quarrymen. But my Mum never went to see them at The Cavern because she was the same age as them, and you know what it's like when you're twenty-two; whatever the sixteen-year-olds are into is unspeakably infantile. But she did see them when they came back to play the Empire in '64, the last time they ever played Liverpool. So I've been immersed in Beatle culture my entire life and in that respect it was a fairly obvious thing to do for a Fringe show. Funnily enough, the Three Weeks review described it as 'incredibly well researched'; the sad truth is, I knew all that already. I didn't research anything! A couple of things I checked to make sure I was right, but that's it. That torrent of Beatles minutiae was in there already!
It's a busy time for you, with your first book, Terra, out now too…
The reviews for the book have been beyond my wildest expectations. I was basically holding out for 'creditable first attempt' kind of reviews but I've been getting 'feelgood hit of the summer' reviews, which is astonishing. The reviews are all picking up on different aspects of it; some of them are reviewing it as a flat-out comedy; I didn't really write it as a comedy. There's a lot of jokes in it, as I imagine there probably will be in anything I ever do, but I didn't necessarily write it as a comedy with a capital C. It gets pretty grim towards the end; things actually get pretty bleak in the last third. Some people have reviewed it as a kids' book. I didn't specifically write it as a kids' book. It's a kid-friendly book, is how I would describe it. It's okay for anyone over the age of twelve to read, but that doesn't necessarily mean that it's only for twelve-year-olds. There's nothing in there that your average bright eleven- or twelve-year-old wouldn't get or would find particularly traumatic. There's gags in there that literally me and three other guys are gonna get. But there's gags in there that only the grown-ups will get. In particular the central relationship, which is between this little human baby and an adopted alien father, kids and adults will read that very differently. I think I've touched on something fairly universal as regards parenthood in the way I've written it and I think kids will definitely respond to seeing it from the kid's point of view.