Cyberman - The Complete Series 1 & 2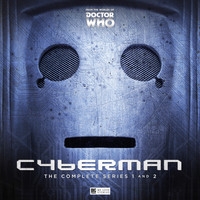 Released May 2016


Prices
CD
US $32.08
Download
US $20.00

Web Special Price!


Synopsis
THIS EXCLUSIVE RELEASE IS ONLY AVAILABLE FROM THE BIG FINISH WEBSITE
'This is proper, grown-up Doctor Who... It looks at issues of politics and power, and without the Doctor to clean up the mess, there are no easy answers and [there are] real consequences. The cast are fantastic, and together they have made an epic story that is both chilling and brilliant.' Bex Ferriday, Mass Movement
"There Is Nothing To Fear..."
Mankind is fighting a long and costly war with its android creations in the Orion System. The deadlock must be broken at all costs. The President of Earth is offered an unthinkable strategy that cannot be refused.
Deep below the ocean, an ancient spaceship has been discovered. One that contains the remains of the great civilisation we could have been if we'd taken another path. A purer path...
Now the Scorpius strategy is in full operation. Silver legions stand impassive in every city; mankind has sacrificed its freedoms and a web of lies and deceit draws ever tighter. Only one choice remains - resist or surrender...
Written By: Nicholas Briggs & James Swallow
Directed By: Nicholas Briggs
Cast
Mark McDonnell (Liam Barnaby/Nash), Hannah Smith (Samantha Thorn/Computer), Barnaby Edwards (Paul Hunt/Comms), Sarah Mowatt (Karen Brett/Supervisor/Welsh Citizen), Ian Brooker (Yan/Hendry/Helliton/Glaust/Protestor/Karen's Father/Commander/Security/Goran), Ian Hallard (Chessman), Toby Longworth (Levinson/Prime Riordan/Pilot/Public Address/Soldier/Captain/PA Voice/Policeman/Government Official/Studio Manager), Lizzie Hopley (Brinna/Secretary/Comp), Samantha Sanns (SSC Control/Comp/Helm/Operations Officer/Android/Nav Comp/Liam's Comp/Refugee), Jo Castleton (Hazel Trahn), Andrew Dickens (Milo Taggart), Toby Hadoke (Louis Richter), Martin Trent (Merced), Cal Jaggers (Becca Trahn), Jess Robinson (Janice Webb), Stuart Crossman (The News) and Nicholas Briggs (The Cybermen/CyberPlanner/CyberLeader)