Destiny of the Doctor - The Complete Adventure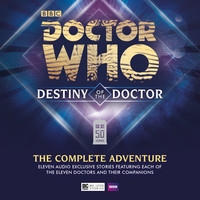 Released September 2016
Prices
| | |
| --- | --- |
| CD | US $52.64 |
| Download | US $30.00 |

Synopsis
Originally created to mark the 50th anniversary of Doctor Who, Big Finish Productions produced a special range of audiobook titles, each focusing on one of the eleven Doctors. They are collected together here in a new set, telling the complete story.
These are dramatised readings, featuring stars from every era of the BBC series new and old alongside fresh new voices, and this box set contains all eleven adventures plus a bonus 'making of' disc.
Anyone buying this on CD from Big Finish will also get instant access to a full download in either MP3 or Audiobook format.
Written By: Nigel Robinson, Simon Guerrier, Andrew Smith, Jonathan Morris, Steve Lyons, Nev Fountain, James Swallow, Alan Barnes, Cavan Scott & Mark Wright, Darren Jones, Matt Fitton
Directed By: John Ainsworth
Cast
Carole Ann Ford, Frazer Hines, Richard Franklin, Lalla Ward, Janet Fielding, Nicola Bryant, Sophie Aldred, India Fisher, Nicholas Briggs, Catherine Tate, Jenna Coleman