Doctor Who - The Third Doctor Adventures: The Transcendence of Ephros Part 1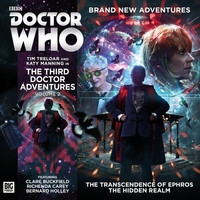 Released November 2016


Synopsis
(This episode comes from the two-story set Doctor Who - The Third Doctor Adventures Volume 2, and was first made available as an exclusive preview to subscribers of the November '16 sendings of the Big Finish newsletter)
The Transcendence of Ephros by Guy Adams
The Doctor and Jo arrive on the dying planet Ephros, where Galactux Power Inc is exploiting the world's remaining resources. But something is stirring beneath the surface...
Written By: Guy Adams
Directed By: Nicholas Briggs
Cast
Tim Treloar (The Doctor), Katy Manning (Jo Grant), Simon Bubb (Temper/Follower 1), Richenda Carey (Mother Finsey), Bernard Holley (Karswell), Nigel Peever (Quail/Deputy), Karen Henson (Bartram/Follower 2). Other parts played by members of the cast.
Producer David Richardson
Script Editor John Dorney
Executive Producers Jason Haigh-Ellery and Nicholas Briggs