3.08. The Rosemariners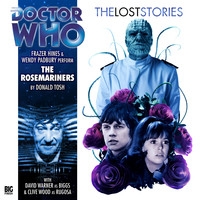 Released September 2012


Prices
| | |
| --- | --- |
| CD | US $20.99 |
| Download | US $12.99 |

Behind the Scenes
The Rosemariners

Writer Donald Tosh reflects on his story The Rosemariners – originally devised to be made in the 1960s, and out at last this month as one of our Doctor Who Lost Stories…

The idea of having a race of creatures who were 'powered' by roses came to me while I was assisting my late wife in creating a rose garden. The plants and their roots frequently seemed to have a life of their own, no matter what you wanted to do with them and in the ensuing struggle, one got scratched. They were therefore ideal villains and heroes. They were beautiful, but could also respond viciously, they also had a propensity for exotic names.

Then I approached the Doctor Who office with the idea, they responded positively and I agreed to submit a detailed storyline. However, before I could do that I was commissioned to write a script for a film to be based on the writings of Stephen Crane and set during the American Civil War. This involved a very great deal of research for me and the roses story got put on the back burner. Unfortunately, when I was able to get down to work and submit it, a lot of time had passed and Pat Troughton's Doctor was about to make way for Jon Pertwee's. As this was not the sort of story they were looking for, it got shelved. Many years later I was approached by Doctor Who Magazine to write up the story as one of the 'lost' Doctor Who stories, and then to my surprise and delight Big Finish asked me to fully script it and here, with a very distinguished and talented cast, it now takes on a real lease of life.

I loved my time on Doctor Who, working with a producer, John Wiles, whom I respected and admired and with whom, as far as the programme was concerned, I was nicely balanced. He was very much into the sci-fi side whereas the historical stories were more mine. We also appreciated that for our audience the future tended to be more popular than the past. Both of us believed that although we had a good adult audience we were primarily a 'Children's Programme' (and suffered the budget limitations that went with that). We also believed that children were far more resilient and loved being scared. They may watch from behind the sofa – but heaven forfend you should think of turning it off. They were watching it!

Consequently we were, I suppose, somewhat darker in tone than other teams (though not as splendidly dark as they have become in the Second Coming). We were the first to 'kill off' a companion (in The Daleks' Master Plan). This was not done lightly, but after much soul searching, However, the problems inherent in having a handmaiden from Troy as a companion were going to seriously affect and slow up the storytelling, so alas Katarina had to go. The death of Sara Kingdom was another matter, for we had hoped to have Jean Marsh with us for some time, but her own created programme Upstairs Downstairs was about to go into production with a major part for her and it would have been absurd to ask her to forego that, so she had to be written out. This meant that she and Adrienne Hill were two of the briefest companions and John and I were forever labelled as being 'cavalier' with casts' lives.

I find it sad that little remains of John and my time on Doctor Who, especially the twelve-part Dalek story. It may have been the nearest thing to a nightmare to get onto the screen but it lost one of the great portraits of Doctor Who villains in Kevin Stoney's masterly Mavic Chen. The Rosemariners comes from a more innocent time and I crave forgiveness for referencing the The Daleks' Master Plan, but for now I just hope that you enjoy yet another 'journey into the unknown' with the great peripatetic Doctor.