9.03. Doctors and Dragons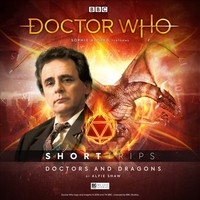 Out in March


Prices
| | |
| --- | --- |
| Pre-order Digital | US $2.99 |

Synopsis
Doctor Who: Short Trips Monthly is a series of new short stories read by an original cast member.
Reya always knew she was different. Only she could see the numbers that govern the universe. When her sister is poisoned, Reya quests for the only substance that can save her. The blood of the last dragon. The only thing that stands in her way is a strange little man called the Doctor. He's refusing to let her kill the dragon, even though it will save her sister.
Defeat the Doctor, kill the dragon, save her sister. What could be simpler?
Producer Alfie Shaw
Script Editor Nicholas Briggs
Executive Producers Jason Haigh-Ellery and Nicholas Briggs
Written By: Alfie Shaw
Directed By: Lisa Bowerman
Cast
Sophie Aldred (Narrator)