4. Frankenstein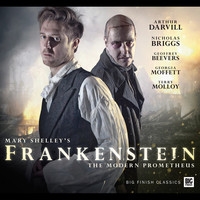 Released October 2014


Prices
| | |
| --- | --- |
| CD | US $33.15 |
| Download | US $20.00 |

Behind the Scenes
LET'S BE FRANK

Kenny Smith discovers the shocking truth behind Frankenstein, the fourth Big Finish Classic release.

FOR many people, the Universal and Hammer versions of Frankenstein are the only versions of the story that they know. But the dramatisation that is arguably the closest to Mary Shelley's original Modern Prometheus is released by Big Finish this month.
Previously, Big Finish has released adaptations of classic works The Phantom of the Opera, Treasure Island and The Picture of Dorian Gray, and this month they are joined by a horrific stablemate. Starring Arthur Darvill as Victor Frankenstein, with Geoffrey Beevers as his father Alphonse Frankenstein, Georgia Moffett as Elizabeth, Terry Molloy as Christensen and Nicholas Briggs as the Creature, it brings together an experienced cast.

The project was the baby of director Scott Handcock, and was ultimately commissioned by Nick Briggs and David Richardson. Scott said: "Frankenstein came about initially because I'd just done The Picture of Dorian Gray and I'm always banging on Nick and David's door to see if there's anything else I can do, so I started to pitch ideas.

"I'd got to know Arthur through working on Doctor Who – he'd come in and done some Bernice Summerfield and Dark Shadows for me – and we got chatting about working on something else together, so I went away, and mulled over various classics titles, and Frankenstein seemed like a brilliant fit for Arthur.

"I then went to Nick and Jason and said, 'How about a version of Frankenstein, with Arthur Darvill as Victor?' They instantly said yes, and it went from there. But then, Arthur went away to Broadway to be very successful, so we put everything on hold and kept in touch, and rescheduled pretty much for the second he set foot off the plane!"

Scripting the adaptation was Jonathan Barnes, who has written for the Sherlock Holmes and Doctor Who ranges. How did he find adapting the book, so that it felt close to the original text, whilst being a new take on a familiar story as well?

Jonathan explained: "Frankenstein was a real challenge to adapt. The book is surely a masterpiece – begun when Mary Shelley was only eighteen and born out of that terrific surge of early nineteenth-century romanticism. The story has long since burst the banks of its literary source and become a popular myth, familiar from dozens of versions on stage and screen. My aim was to return to the original whilst also taking into account the familiarity of the core conceit. So there'll be some surprises even for those who know the book well!"

Scott continued: "I hadn't worked with Jonathan Barnes before, but Nick had just done the scripts for The Ordeals of Sherlock Holmes with him, and felt he would be a really good match, not just for Frankenstein but for me too.

"We discussed what I was wanted from the story, and what Jonathan wanted to bring to it, and found we already had very similar ideas in how to approach it. So the process was all quite easy, as we were already singing from the same hymnsheet.

"He knew the book already and we were keen to remain as faithful to the original text as we could, both with the structure of the story and the tone, though obviously some things have to change when you're adapting for audio. So Jonathan trod a very fine line between remaining rigidly loyal to the Mary Shelley text, whilst evoking a sense of it where it had to be tweaked for the audio medium."

Jonathan said: "It follows the outline of the original extremely closely and includes many elements – such as the Creature's narration and Victor's sojourn in Scotland and Ireland – which are often omitted. It is also quite a modern reading of the novel – investigating, in particular, the nature of Frankenstein's motivation. It strikes me as such an odd thing to want to do, to build a new human being, that I was very keen to try to understand what had driven him to the point at which such a monstrous undertaking seems perfectly reasonable. The text suggests several divergent possibilities which I've tried to tease out. Hopefully the Big Finish version is at once faithful, contemporary and, oddly, perhaps, quite personal."

With the script ready to record, it was time to head to the Moat Studios in January. Scott said: "Recording with Big Finish is always a very fast process, but not in a bad way, so it's sometimes hard to remember details. We laughed a lot, and we had such a lovely cast in over the three days – Arthur is such a lovely leading man and welcomed everyone brilliantly into our world. He's a joy to work with.

"Everyone had a real passion for the material, whether they were just there for a morning, or over the course of the three days. Georgia Moffett treads that fine line as Elizabeth between being besotted and being strong, but she's no wilting flower. She has some steel behind her, but is very gentle at the same time.

"Geoffrey Beevers is one of my favourite people in the world, and is just so good at everything. His final confrontation with Victor towards the end shows two great actors at the top of their game, and you genuinely believe in their relationship.

"As for the Creature, I think a lot of people will presume they know what Nick is going to bring to it, but I think he'll surprise them. I'm really proud of his performance. It's subtle, almost childlike at times, and makes the creature very sympathetic, but with an edge of menace too. It's a very powerful performance."

Jonathan was over the moon with the way the play was brought to life: "I'm really delighted. Scott's done a terrific job and James Dunlop's score is wonderful. The whole thing has such a doom-laden air, a quality of near-hysteria which feels really authentic. The cast are wonderful – Nick Briggs has brilliantly reimagined the Creature and Arthur Darvill is just perfect as Victor. Every line sounds fresh and new. I'm looking forward to hearing what people make of it all!"

Scott concluded: "Obviously I'm incredibly proud of everything I do for Big Finish, and invest a lot of time and care in it, but Frankenstein, like Dorian Gray, has a special place in my heart. We just had a big band of people working together – not just the cast, but Jonathan as the writer, Neil Gardner and James Dunlop providing sound design and music, not to mention Stuart Manning's gorgeous design work – it really does feel like a special release all round.

"It doesn't just seem like another entry in the Big Finish Classics range – it feels like an event. As for more… I think I've made it known that I'd love to do Dracula. I think there's a temptation to make horror a bit arch, but not with this – there's an honesty to the characters and the story, and in a very weird way, you can really relate to it…"