98. Frozen Time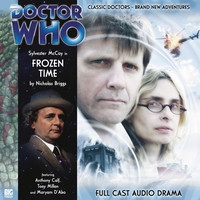 Released August 2007


Prices
Download
US $2.99

Web Special Price!


Synopsis
"Sylvester McCoy, sans companion this time, gives an excellent performance... the production feels polished and opulent." - Total Sci-Fi
"The play does exactly what it says on the tin. Briggs delivers a soundly made and acted audio, thoroughly polished and professionally done. If this is the first Big Finish audio you ever hear, you should be impressed"- Doctor Who Magazine
"Frozen Time is bound to please long time Who followers and new fans alike, and must not be missed." - Starburst
In 1929, Lord Barset's expedition to the Antarctic is lost without trace. Or so it seems…
Nearly a century later, his grandson funds a much-publicized return to the icy wastes. His mission: to discover what happened to the original expedition. But what he finds instead is an enigma – a battered London police box frozen in ice millennia old.
But something else lies in wait in this awful place, something from an era before humankind set foot on the continent's cold soil. A menace frozen in time.
Until now.
THIS TITLE IS NOW OUT OF STOCK ON CD.
Written By: Nicholas Briggs
Directed By: Barnaby Edwards
Cast
Sylvester McCoy (The Doctor); Anthony Calf (Lord Barset); Maryam d'Abo (Genevieve); Tony Millan (Professor McIntyre); Gwynn Beech (Harman); Gregg Newton (Ben); Nicholas Briggs (Arakssor)