Haunting Memories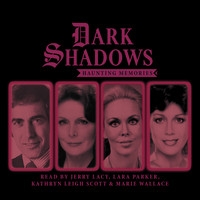 Released December 2016


Prices
| | |
| --- | --- |
| CD | US $19.99 |
| Download | US $12.99 |
Synopsis
This title was released in December 2016. It will be exclusively available to buy from the BF website until January 31st 2017, and on general sale after this date.
Four tales of horror, romance and intrigue…
Hell Wind by Marcy Robin
A young Josette Du Pres is terrified for her life as a deadly hurricane smashes into the island of Martinique. She rushes for shelter but she's not the only one fighting to survive…
Communion by Adam Usden
1861 and War rages across America. The preacher Elias Trask and his young son Gregory, are hiding from men who wish to kill them. But something else is already in their hiding place…
The Ghost Ship by Lara Parker
The warlock Nicholas Blair has transformed the witch Angelique into a vampire to serve him. Her love for Barnabas Collins, though, will never die…
A Face from the Past by Kay Stonham
Elizabeth Collins Stoddard is returning to her home town of Collinsport. But on the train, she is stunned to see the young man who was once the love of her life. Could he also have returned to the town that once tore them apart?
Written By: Marcy Robin, Adam Usden, Lara Parker, Kay Stonham
Directed By: Darren Gross
Cast
Kathryn Leigh Scott, Jerry Lacy, Lara Parker & Marie Wallace