9. Heroes (Novel & eBook)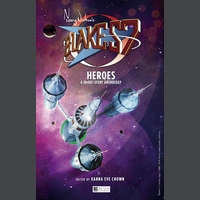 Released December 2017
Prices
| | |
| --- | --- |
| Book | US $23.83 |
| eBook - EPUB | US $12.99 |
| eBook - MOBI | US $12.99 |
Synopsis
Please note that due to production issues, the physical delivery of this book has been delayed, but we are hoping that all orders can be despatched in w/c 18/12/2017.
This release is exclusive to Big Finish
A distress call is coming from a Federation research base…
A crack team is assembled to take over the Liberator…
A band called the Dangerous prepare to 'Rock the Rock Planet'…
Blake's 7: Heroes features six stories by Trevor Baxendale, Paul Darrow, Jonathan L Howard, Una McCormack, LM Myles and Gary Russell.
Heroes or villains? Things are not always black and white in the dystopia ruled by the ruthless Federation. The crew of the Liberator are passionate in their opposition to the injustice and corruption of the government, but this group of convicts and outcasts aren't exactly angels themselves… Whether it's a large scale rescue mission, or a simple act of kindness, these stories explore an important question: what really makes a hero?
Separate by Una McCormack
Rock Star by Paul Darrow
Dominator by Jonathan L Howard
Metanoia by L M Myles
Contagion by Trevor Baxendale
Seven Magnificent Dirty Expendables on an Impossible Mission by Gary Russell
Produced and Edited by Xanna Eve Chown
Written By: Trevor Baxendale, Paul Darrow, Jonathan L Howard, Una McCormack, LM Myles and Gary Russell