1.03. Sherlock Holmes: Holmes and the Ripper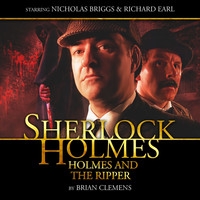 Released April 2010


Prices
| | |
| --- | --- |
| CD | US $20.88 |
| Download | US $12.99 |

Behind the Scenes
What the papers said about Nick Briggs as Holmes in the stage production of Holmes and the Ripper:
'Briggs stole the show, with a Holmes portrayal that hovered between Jeremy Brett and Peter Cushing… the hawkish and slightly arrogant Brett influence prevailed, but Briggs cleverly injected a little humour and warmth into the part' Zena Hawley Derby Evening Telegraph.

'Briggs is indisputably brilliant' Fiona Stanley NG Magazine.

'Briggs gives Holmes real depth' Alan Geary Nottingham Evening Post.
Briggs on Holmes:
'Holmes has been a passion of mine since childhood. Naturally, I watched all the Basil Rathbone movies and like many Holmes fans regard the late, great Jeremy Brett's performance as definitive. But there have been many great interpretations of Holmes. I'm rather fond of Peter Cushing in the role, for example. But I have to say that when I chanced upon Roger Llewellyn's performance in his solo shows The Last Act and The Death and Life, I was mightily impressed. Roger brings a real depth, passion and pathos to the character.
'My own acting association with the part started in 1999, at exactly the time I was working on our first Doctor Who audio play, The Sirens of Time. I was offered and accepted the part of Holmes in a production Conan Doyle's play The Speckled Band (at the Drayton Court Theatre). It gave me a real taste for the part, but it wasn't until 2008 that I got the chance to play Holmes again, in a production of Brian Clemens's Holmes and the Ripper at the Theatre Royal Nottingham. The production was such a success that I was invited to return to the role in 2009, and asked to write an adaptation of The Hound of the Baskervilles.'
CHRONOLOGICAL PLACEMENT:

That's for you to investigate!