03. Legion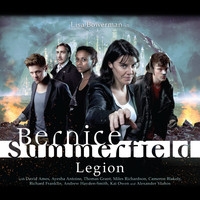 Released September 2012


Prices
| | |
| --- | --- |
| CD | US $26.47 |
| Download | US $15.00 |

Behind the Scenes
Brax to Basics
Bernice Summerfield is reunited with both old friends and enemies in Legion, so we asked scripters Tony Lee and Brax actor Miles Richardson about their respective stories for the new box set

Hi Tony. You've written Vesuvius Falling to kick off the Legion box set. Where does it find our heroines?
Pretty much immediately after the end of the last box set. They're on Legion, which is effectively Mos Eisley if it was an entire planet, and it's the day after Benny's reunited with Peter [Thomas Grant] – who is less than impressed with her, shall we say. She's also thrown by this new, improved 'nice guy' Brax and of course Ruth [Ayesha Antoine], who's never met him before, thinks he's great, and they're both not sure about Jack's [David Ames] appearance in the bar yet and are convinced that he has some kind of game plan.
So it finds them a bit out of sync as everything's finally come together, but the years apart have caused more problems than solutions.

This is your second time writing for Benny. How are you finding it so far? What are your favourite aspects of the franchise?
I was a fan of Benny back in the days of the Virgin New Adventures, so to work with the characters I've read and listened to for years is always a joy. And hopefully I'm finding aspects of this that have been left alone for a while. When I got the chance to pitch for this I spoke to my old roommate Craig, possibly one of the biggest Benny fans out there, and asked what I should be looking at that's been lacking of late. 'Archaeology,' he replied, and I agreed. So in this she's going back to her roots.
As for favourite part, anything with Lisa [Bowerman, Benny] is wonderful. She's brilliant.

Benny can be a lighter and more comedic series than the other BF ranges; how much does this appeal to your writing sensibilities?
Oh, very much so. When I wrote the Eleventh Doctor issues of the IDW Doctor Who comic, I found I was throwing more and more humour into my stories, and the option to write this audio came pretty much in the middle of that run, so it was quite a natural progression to move from one to the other and throw humour into the mix. That said, it's probably a darker story for me than my Epoch story, because it's far more claustrophobic.

Who were your favourite characters to write?
I'm finding Benny and Ruth are a great combination to write; Benny's now even more cynical and world weary than ever, while Ruth's this eternally perky optimist. It was my first time writing Brax, but again he's a different Brax, so I'm following the box set remit of taking these well-known, old characters and giving them new spins. Likewise Peter, who really gets to flex his muscles this season.

What does Lisa Bowerman bring to the role?
Everything. Even after all these years she's still bringing her A-game to the studio each and every time, and she's still finding new directions to take the character. Lisa knows better than anyone what Benny would do on any given scenario, and she's a great resource for the rest of the crew.

You mentioned the US comics range; will you be working more on that?
I left the range on issue #12 of the last run – it cancelled on #16 and Andy Diggle starts a new ongoing later this year. I'm also only on issues #1-#4 of the eight issues of Assimilation2 which, being a Star Trek: The Next Generation/Doctor Who crossover had about a dozen different cooks on every single piece and therefore wasn't typical of the creation process. I don't really know what IDW have planned for Doctor Who except for a 2012 annual that is out in the autumn with stories from myself and also Big Finish writer Richard Dinnick, among others. There's talk of something big for 2013, but until I'm greenlit to do something, I never believe I'm going to get it.

What other projects do you have lined up?
I'm currently working on the fourth of my Heroes & Heroines books for Walker Books, writing a MacGyver series for Image Comics and adapting Amanda Hocking's Hollowland books for Dynamite. Outside of comics I've just done a Christmas special Confessions of Dorian Gray audio script for Big Finish that was a dream come true for reasons that will soon come to light. I'm writing a Young Adult novel, a couple of screenplays and a TV series pitch is currently doing the rounds. It might sound a lot, but the way these things stagger, I've always got room for one or two more audios, guys…

Miles Richardson
Hello Miles! You've written Everybody Loves Irving for the new Benny box set. What's it about?
Well, it's not really about anything. When I say that, I mean it's not about rampaging evil aliens, challenging Benny in maniacal and dastardly ways. I've always felt that the most interesting part of the Bernice stories was the somewhat tart, domestic relationship she had with Brax. So I set out to write a simple domestic piece which would play with that relationship. Having said that, there are some aliens and there is some threat, mainly involving intergalactic plumbers.

How loved do you feel Braxiatel is?
I was surprised by Brax's popularity – almost from his first outing. But then, he is a somewhat ambiguous character. On the one hand, he can be charming and witty. On the other, he is capable of unspeakable evil. But that latter side, I have always felt, was driven by a desire for the greater good. But the two aspects combined do make for an attractive character. Of course, in more recent stories he became a bit extreme. With the new scenario put forward in Legion, I think we are back with a Brax that both Lisa and I are more comfortable with.

How did the opportunity to write for Benny arise? What was the writing process like for you?
I simply wrote a story and sent it off to Gary Russell [producer]. I was in a dull moment in between jobs and it was something to do. At first he wasn't keen at all, mainly because it didn't fit in with the new storylines. Then he saw that as it was a self-contained vignette, it could – with the addition of some judicious rewrites – fit comfortably within the Legion box set. I found the writing surprisingly easy. It flowed very easily. But then, I've known the characters for over a decade now, so knew how they would interact. The difficult part was trying not to make it all Irving (he does love the sound of his own voice). I didn't have any plot in mind when I started. I just let the story develop as it went along. I just asked myself, 'What would they do now?'

What does Brax do that he's never done before?
He goes shopping. How's that? He's also more vulnerable than of old. Courage is the prerogative of the young, and even though he's a Time Lord, he's no longer in the first flush of youth.

What's the relationship now between Benny and Brax, and between you and Lisa?
After going through an extremely difficult time together, Brax and Benny have found a new – hopefully – working relationship. Mind you, it's the same Benny, but not the same Brax. For those who don't know, the old Brax from the Bernice stories is now elsewhere and the new Brax is the one we have come to know from the Gallifrey series. I think their relationship – when it works at its best – is like a marriage. They do tend to argue like an old married couple. Though, despite the wishes of some of the fanbase, any plot along those lines would be detrimental to the storyline. Brax still holds a candle for Romana, anyway.
Lisa and I have been friends for a quarter of a century now and have always got on well together, both in and out of the recording studio. Mind you, she never stops talking. But then, I am a man and therefore most comfortable in silence. We socialise outside of the workplace, which is very healthy, as in the studio we are normally separated by industrial glass.

If someone hasn't tried out Benny before, why should they pick up the Legion box set?
I would suggest that it would be a perfect time to come to the Bernice Summerfield stories. The old run of stories had become crowded with so much baggage that you sometimes lost sight of Benny and what she was and did. Now the decks have been cleared, so to speak, and we are back, almost, to square one. I, thankfully, survived the cull.