92. Nocturne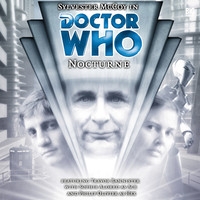 Released February 2007


Prices
CD
US $7.59
Download
US $2.99

Web Special Price!



Behind the Scenes
Chronological Placement
This story takes place after the television adventure, Survival and after the Big Finish audio adventure.
CD Extras
This release includes behind-the-scenes interviews with all the members of the cast, including Sylvester McCoy, Sophie Aldred and Philip Olivier.
Production Notes
Trevor Bannister is best known for his portrayal of Mr Lucas in the long-running and ever-popular BBC sitcom, Are You Being Served. He also appeared as the villain in the original series of The Tomorrow People. At the time of recording Nocturne, Trevor was appearing with Sylvester McCoy in the musical Me and My Girl
Eric Potts had previously appeared in the new Doctor Who television series as one of the Slitheen.
To accomodate Sylvester McCoy's touring schedule with Me and My Girl, Nocturne was recorded in Manchester rather than London.