6X. Sherlock Holmes: The Adventure of the Fleet Street Transparency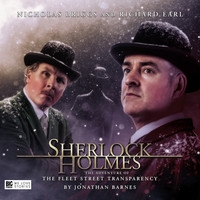 Released December 2017


Prices
Download
US $2.99

Web Special Price!

Synopsis
This release is Download only - it is also available on Download or CD as part of the release Sherlock Holmes - The Master of Blackstone Grange. Anyone pre-ordering March's Blackstone Grange will get access to The Adventure of the Fleet Street Transparency on its release in December (please allow up to 120 mins for the system to update with your free download)
"As a small Christmas special to remind Big Finish fans of the Sherlock Holmes range, this is a treat." Blogtor Who
"A delightful slice of Christmas to listen to again" - Cultbox
"An enjoyable festive treat for fans not just of Big Finish's Holmes line" - SciFi Bulletin
London at night.
Westminster, at the end of the age of empire. And here, two days before Christmas... an extraordinary mystery is about to unfold...
Footprints in the snow, an unfathomable assault in a Turkish bath... Watson is baffled, but Holmes has a growing suspicion that a seemingly fantastical encounter will become a reality.
Written By: Jonathan Barnes
Directed By: Ken Bentley
Cast
Nicholas Briggs (Sherlock Holmes), Richard Earl (Dr John Watson), Blake Ritson (Dr Kemp), Anjella Mackintosh (Lydia Rangeley / Sally), Leighton Pugh (Hubert Rangeley / Clark / Mr Blythe / Impressario). Other parts played by members of the cast.
Producers Nicholas Briggs & Ken Bentley
Line Producer David Richardson
Script Editor Ken Bentley
Executive Producers Jason Haigh-Ellery and Nicholas Briggs