Sherlock Holmes: The Adventure of the Perfidious Mariner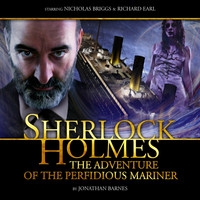 Released April 2012


Prices
Download
US $2.99

Web Special Price!


Behind the Scenes
THAT SINKING FEELING
Writer Jonathan Barnes and stars Michael Maloney and Tracey Childs talk to Richard Dinnick about boarding the Titanic for a brand new Sherlock Holmes adventure

Let's start with you, Jonathan. How did you come to be writing about Sherlock Holmes and the Titanic?
Well, it was the Titanic that came first, really. Nick [Briggs] asked me to pitch anything I liked on the subject of the Titanic, which was 1912, so it's the centenary of the tragedy. I think at one point he was suggesting a documentary or something like that, but it didn't take me very long to come up with the suggestion that we should do Sherlock Holmes, who at that time would have been retired, tending his bees, two years before his comeback in His Last Bow, so it seemed kind of irresistible really to plait the two together.

Does this bring him out of retirement?
There's a gap in the canon between the two stories we have of Holmes in retirement, one of which is The Adventure of the Lion's Mane, in which Holmes is living on his own. The story is narrated by Holmes himself, he doesn't seem to have any contact with Watson and he's involved in a fairly milk and water mystery. Then 1914, His Last Bow, he's back with Watson breaking up a spy ring. Something has clearly happened between those two stories, both to get Holmes out of retirement and back together with Watson. [After Lion's Mane] he goes away almost straight away to go undercover as the Irishman in His Last Bow, because he says he's been undercover for two years, so it's almost perfect. There has to be a story in there somehow explaining what caused that shift.

Unusually, it's Holmes not Watson narrating at the opening of The Perfidious Mariner.
It's clear, I think, that something has gone wrong by the time you reach The Adventure of the Lion's Mane, so I wanted The Adventure of the Perfidious Mariner to start off as something different and gradually move towards something that feels like a Sherlock Holmes story. So you begin the story with Holmes and Watson completely estranged, Holmes apparently having had some kind of breakdown, and gradually the characters come back together again. Eventually a mystery is introduced and by the end of it, we're up on our feet again, things are as good as they can be and we've a much more traditional Sherlock Holmes adventure. And the icing on the cake for that is Watson's narration coming back in right at the end.

Was there anything you were sorry to have to take out of the play?
One thing I kind of wish I'd kept in is in the beginning, when [J Bruce] Ismay sees the spectre in the hall. It's a moment that evokes a little bit of Hamlet and at one point I did have him say the line, 'Can you see her? Can you see her? She harrows me with fear and wonder' which, if I'd known we were going to get the wonderful Michael Maloney, I would love to have kept in, just to hear him say it. But that went for reasons of plausibility, really.

•••••

Which neatly brings us to you, Michael. Are you a big Holmes fan?
I was talking about this earlier; it's almost unavoidable that you become a Holmes fan – it's part of our culture. It's part of our acting culture, certainly, as is Shakespeare and Dickens. But also, if you like, the nature in which sentences are phrased in the writing concerning Sherlock Holmes has inveigled its way into the way we think. If you have never been a performer and, indeed, if you've never even picked up a Sherlock Holmes novel, you will, when you're doing spoof detective work, fall into a way that Sherlock Holmes would phrase things. The nature and the power of the logic is so intoxicating and so attractive to people that it has become part of our psyche.

What's it like playing a real-life character in the shape of J Bruce Ismay, Chairman of White Star Line, which owned the Titanic?
I would say that this is a very faithful representation of Ismay, and at least factually, everything from the tribunals and from the inquests, he would have said. Such a story [as this] is going to employ a writer's imagination and that's where we leave the genuine character of Ismay and embark on a flight of fancy. What you're going to get is an aural snapshot, if you like, of a true human being in a significant occurrence in the history of the twentieth century, passing through a piece of fiction. The more factually correct he is, the more intriguing it is, and it's a superb device, really, to have people who really did once exist go through a piece of fiction. It lends authenticity.

What's the enduring fascination with the Titanic?
There's something heroic, something epic, something extraordinary, something larger than life which is wrapped up in the simple question of survival, which somehow captures people's imagination. They wish to replay it, they wish to be involved in it, they wish to be there; in their imagination I'm sure they are there. I became obsessed by Scott of the Antarctic. I suppose it's a way of the subconscious letting you know that you are human; that you have a finite time on this planet and you must return to dust. And in some way, through storytelling and through capturing your imagination and re-exploring it and replaying it, it somehow helps you with accepting your own mortality.

•••••

Hi Tracey. I hear this is your first Holmes experience.
It absolutely is. Jeremy Brett's Sherlock was very big when I was a young ingénue, and I remember [thinking], 'Ooh, lovely, I'll go and do one of them'. Never got asked. Terribly rude of them! And for some reason the Benedict Cumberbatch/Martin Freeman one, no one's knocking down my door. So I'm really grateful for Big Finish.

You should have played The Woman in Sherlock.
Well, hello! What were they thinking? Or Mrs Hudson. Either. But actually I'm frankly delighted that Big Finish, in their wisdom, thought, 'We need Tracey Childs'.

What role do you play in events?
One of my characters is the lovely Martha, who is the Sussex version of Mrs Hudson, and the other one, Mrs Edgar Curbishley, is a little more pivotal. She has reason to know all the people involved and have certain business with some of them, so she is following Mr Ismay around and causing him a little grief and, like Watson, wants something from him. Though she wants something slightly different…

Would you like to return to the world of Holmes after this?
I always want to return to everything, frankly; I'm just greedy and I'm putting in a bid to appear in everything Big Finish ever do! But I have to say, this one does read like 'part one'…

Are you a Holmes fan?
I am. I have to confess, I don't know the books as well as I should. And why I haven't read Conan Doyle I don't know, because he's absolutely the sort of writer I would have loved, particularly when I was young and really getting into reading. I'm ashamed to say I really don't know Conan Doyle's books and this has made me think that I now must go and read some, so that's done a very good thing for my education. But, of course, I've known all of the films and TV series and always been absolutely fascinated by them because I just love the workings of the man's brain; I love the fact that he comes out with, 'Well, it's perfectly obvious to me that this, this, this, this and this,' and you go, 'Who? Why?' and then you get the explanation. I think that's what everybody loves, you just are fascinated by how someone's brain can work like that.