1.1. Star Cops: Mother Earth Part 1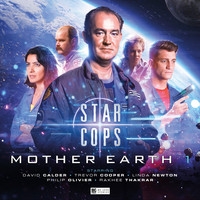 Released May


Prices
CD
US $37.13
Download
US $25.00

Web Special Price!


Synopsis
"Star Cops: Mother Earth Part 1 is bound to exceed the expectations of anyone who takes a chance on it. Grounded in reality, there's not an extravagant performance to be found: it's all genuine. Every character is believable, even the despicable. The writing is sharp, balanced throughout, and escalates appropriately." Blogtor Who
"There is huge scope in this series. Oh, welcome back Nathan. Please don't leave it so long next time. It won't be easy – waiting for the second set." We Are Cult
9/10 "The whole set captures the atmosphere of the original and there's new title music (no singing this time). This is a well-conceived world, with great storytelling and strong characters." Starburst
'This new version of Star Cops offers a fresh lease of life to a great series and the production is tonally spot on, with smart scripts and strong characters. The stories are well directed by Helen Goldwyn and backed by excellent, era-appropriate sound design from Martin Montague. It may have taken over thirty years, but we are thrilled to have the Star Cops back!' Cult Box
This title was released in May 2018. It will be exclusively available to buy from the BF website until June 30th 2018, and on general sale after this date.
It's the near future, and mankind has expanded its presence in space. Maintaining law and order among this network of space stations, satellites and moon outposts is the responsibility of the International Space Police Force, known colloquially as the Star Cops. Their leader is Commander Nathan Spring.
While dealing with crimes including drug smuggling and murder, the Star Cops find themselves facing a new and sustained threat. The activist group Mother Earth, ideologically opposed to humanity's presence in space, has been quiet for some time. But no longer. The group returns with a vengeance, prepared it seems to go to any lengths to achieve its aims.
1.1 One of Our Cops is Missing by Andrew Smith
As construction of the Vasco da Gama, the largest space station ever put into orbit, nears completion, Nathan is visited by an old friend, who asks for his help in tracking down a missing undercover officer.
Meanwhile, Inspector Priya Basu is investigating a near-fatal spacewalk accident on the space station Rakesh Sharma that may be no accident at all.
1.2 Tranquillity and Other Illusions by Ian Potter
A murder at the historic scene of the first Apollo moon landing offers few clues for the Star Cops. Why would anyone want to kill Philip Hughes, a property entrepreneur? And what has become of the mysterious woman who was with him at the time? The investigation leads to a moon outpost, where anyone may be the killer.
1.3 Lockdown by Christopher Hatherall
Tech Tower is a state of the art, high-security, high-technology building located in Paris. It seems the ideal venue for an international conference on how to counter the growing threat from the Mother Earth group.
Nathan and Priya attend as representatives of space policing. Soon, they and everyone else in the building find themselves in danger as a disruptive attack by Mother Earth coincides with a plot by criminals to carry out a high stakes robbery.
1.4 The Thousand Ton Bomb by Guy Adams
A failed bombing of Moonbase provides the Star Cops with an opportunity to strike back at Mother Earth. Paul Bailey is called on to use his undercover skills once more.
But Mother Earth is about to escalate its campaign of violence with a spectacular attack. And the Star Cops are among those in the firing line.
Written By: Andrew Smith, Ian Potter, Christopher Hatherall, Guy Adams
Directed By: Helen Goldwyn
Cast
David Calder (Nathan Spring / Box), Trevor Cooper (Colin Devis), Linda Newton (Pal Kenzy), Rakhee Thakrar (Priya Basu), Philip Olivier (Paul Bailey), Andrew Secombe (Brian Lincoln), Ewan Bailey (Martin Collyer), Nimmy March (Shayla Moss), Delroy Atkinson (Charles Hardin), Zora Bishop (Armina Hamid), Mandi Symonds (Caroline / Mother Earth), Tim Scragg (Ashton / Hughes), Amerjit Deu (Rez Varughese / Gish), Gabrielle Glaister (Joanne Stack / Janine), George Asprey (Alby Royle / Steven Moore), Andy Snowball (Danny Neal / Pan-Pacific President), Sophie-Louise Dann (Simone Babin). Other parts played by members of the cast.
Producer David Richardson
Director Helen Goldwyn
Script Editor Andrew Smith and Guy Adams
Executive Producers Jason Haigh-Ellery and Nicholas Briggs