1.1X. Star Cops: One of Our Cops is Missing (Excerpt)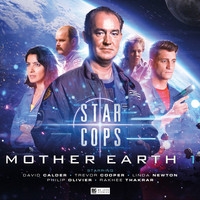 Released May 2018
Behind the Scenes
STAR COPS
The colloquial name for the International Space Police Force (ISPF), a law enforcement body set up to police mankind's expanding presence in near-Earth space. Comprised of full-time and part-time officers based on various space stations and outposts. The force's headquarters office is on Moonbase.
NATHAN SPRING (David Calder)
Commander of the ISPF. A career police officer with 22 years in the job before he became a Star Cop. He distrusts the reliance other investigators place on computers to solve a case. He doesn't suffer fools gladly and expects others to come up to his high professional and investigative standards.
INSPECTOR COLIN DEVIS (Trevor Cooper)
A brash, old-style copper, recruited to the ISPF by Nathan. Experienced, but rash, often abrasive in his dealings with others, including his colleagues and superior officers. He's been married five times, which he reckons is proof that he's "cuddly".
INSPECTOR PAL KENZY (Linda Newton)
A single-minded Australian who, although now regarded by Nathan as one of his best officers, made a bad first impression (he even tried to have her fired). A Star Cop in the original series, Mother Earth begins with her making a new career in an Australian police force.
BOX
Box is Nathan's sophisticated handheld computer. Physically a black case with flashing lights, Box speaks with a filtered version of Nathan's voice and mirrors his personality. Enough personality, in fact, that most refer to Box as 'he' rather than 'it'.
NEW TO STAR COPS WITH BIG FINISH:
When we meet them, PAUL BAILEY (Philip Olivier) is an undercover officer with an Earth force, and PRIYA BASU (Rakhee Thakrar) is the resident Star Cop on the Indian Space Station Rakesh Sharma. Joining them is SHAYLA MOSS (Nimmy March), the newly appointed Moonbase Co-ordinator. Listen in to learn more.