203. Terror of the Sontarans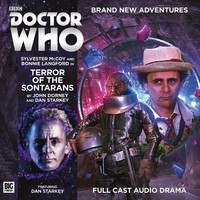 Released September 2015


Prices
| | |
| --- | --- |
| CD | US $19.86 |
| Download | US $12.99 |


Behind the Scenes
Writer's Notes
A special conversation between writers John Dorney and Dan Starkey on the creation of Doctor Who: Terror of the Sontarans.
Dan Starkey: Hello!
John Dorney: Hello! How's things?
DS: Alright thanks. I am standing up with the laptop on my kitchen worktop, as oddly there's very good wifi reception here. And it stops me from dozing off when I'm writing...
JD: That would help certainly. I'm tempted to put that in the writers notes...
DS: Why not? Although I think I wrote most of our script in the last flat I was in, not my current one. However, I think I'm going to adopt it as a handy way of keeping alert – I bruised a rib a month or two ago, which made it difficult to get comfortable sitting down, so I adopted this method. And we all know how bad sitting down is for you...
JD: You know, that's what I mainly remember about writing old scripts. Where I was. I have distinct memories of wandering around a park in Bromley trying to generate ideas for Echoes of Grey. Key lines for Solitaire on Grove Park station... I think I wrote some of Requiem for the Rocket Men standing at the kitchen top as I was moving into a new house.
DS: Yes! The first scene I wrote for Terror of the Sontarans was on a train from somewhere like Nottingham I think.
JD: What was it like to write that first scene? I know how people talk about how pleased they are to write 'INT: TARDIS' for the first time. For me, that was the very last scene of Solitaire, and because it was my second play I was so used to it by then I missed it completely....
DS: Hah! Yes, I've yet to actually write that, since you did all the Doctor and Mel scenes initially. As for the first scene... it was odd, and slightly... OK deep breath. But I think as long as you have that attitude that "This is the first draft and having words on a page is better than not" then it won't stymy you.
JD: Yeah, the freedom of being able to change things is great. You take risks and sometimes they pay off because you're not obliged to keep them.
DS: Completely! It's like that Paul Klee quotation about drawing: "take your pencil for a walk." I think the first scene I attempted is Kayste interrogating Skegg and completely failing to understand post traumatic stress disorder. I think I was aware just how nasty I could make him from then on.
JD: Ah, so you decided to go straight for the Sontarans? Ease your way in as you're so familiar with the voice.
DS: Yes. Start with a dramatic scene, and try to understand the "madness" they've descended into. As I'm sure you've found, the planning can only go so far, because when you start actually writing the scenes, interesting tangents can spark off!
JD: I think that's what happened with my first script too, for the old Sapphire & Steel audio Remember Me – the synopsis turned out to be a vague list of ideas I wanted to include, but it wasn't even remotely in the order it ended up being in.
DS: Ah, a nice list of dried ingredients waiting to be stirred together. Into the cake of drama. Or something.
JD: I kept finding bits where I thought 'well, actually, this has to happen next, as this has just happened'. And scenes ending before you'd expected because they reached the dramatically correct moment.
DS: Yes – and when it came to split up the synopsis between us, then there were a couple of story beats where it was only obvious afterwards that "oh, that's not actually a scene – that's the soggy end to the second act..."
JD: Yeah, it's the tricky thing with a synopsis. You want to tell the story, but if a synopsis was the best way to tell the story, we'd sell the synopsis.
DS: Quite! And which is why scripts are formatted in the odd way they are.
JD: Had you done much writing before?
DS: Yes, but mostly from my own edifications rather than stuff put in the public realm – you know, submitting unsolicited scripts – but I had written stuff for my comedy theatre company The Fitzrovia Radio Hour. And there was always a lot of workshopping with our shows anyway – where we pulling the scripts apart and pitching in with ideas, so it's not entirely alien process. I think it's having a forum to actually write in and then directing your energies. Actually being given a deadline! That's really handy! And being told what not to write – in terms of plot or themes – that's really handy as well.
JD: People always assume guidelines are restrictive, but they're a good way to fire the imagination.
DS: Yeah, there's a lot of improv games – like the ones from Whose Line Is It Anyway – where the point is to deal with a restriction, and it's the pleasure of seeing the performer succeed or more likely fail brilliantly that makes it work. I think that my 'improv head' is a very handy resource when writing, especially dialogue!
JD: That's why actor's make good writers I think. I tend to view a script as an improv exercise where I'm playing all the parts. And, if need be, where I can hone it all a bit later.
DS: Exactly! The creative head and the editor head need to be swapped. Like Worzel Gummidge.
JD: And you've done a bit of improv as a Sontaran, so I can see why they wanted a Sontaran story from you – it's automatically an interesting prospect. You've got the potential to offer insights the rest of us don't have.
DS: Well, I have had a lot of time inside the suit to think about it. And obviously there's not just the depiction of them on TV, there's the spin-off media too, so it's all had time to percolate into my head when I'm producing a performance. And hopefully this script will give another interesting perspective on them. I don't think that you can be too 'definitive' about it too. As I see it, they've been fighting an un-winnable war for umpteen thousand years, so I imagine they're going to try different horrible things out every-time we meet them!
JD: It's certainly what sets them apart from the other alien races in Doctor Who. Usually humanity is just collateral to them.
DS: I'm sure I mutter to myself – even on the train – when coming up with dialogue.
JD: Oh I do as well. David Richardson and I once share a train journey together when I was writing the opening scenes of 1963: The Assassination Games. His Facebook post said that 'Dorney is muttering to himself.' Almost all our writer friends commented saying "yes? Well, of course he is. That's how you do it."
DS: Yes, I had the delights of trying to speak some of my own dialogue in this one. So, I only have myself to blame for some of the knottier bits of technobabble or overly long clauses which take ages to resolve and can't really be said in one breath even if they have to...
JD: I've rarely been in productions that I have written. There's always the faint worry that writer-me will screw it up for actor-me and vice versa. So I rarely take part – unless it's getting killed off in Scene 1 of Iterations of I...
DS: Hah! Brings back memories of The Foe From The Future where I got eaten about four times...
JD: Well, as I've said many times, we've killed each other more times than is strictly decent. Although technically, I think you've only actually killed me once.
DS: I do apologise!
JD: Yeah, you should catch up with your murdering. It's polite.
DS: What's more fun than a good death scene, eh? A gift to the actor,
JD: Oh yeah. Love them!
DS: I remember getting slightly hysterical on the wild track we did of 'Kraal massacre' on The Oseidon Adventure. Too much fun.
JD: The wild track are probably the best bit of any day.
DS: And in the case of Sontaran punch-ups, best left until the end to save on the old cough syrup...
JD: Yeah, that was my main take away from my one scene Sontaran guest part in this story. It hurts the throat. I'm amazed you can do it all day!
DS: I'd like to say it's all good technique dear boy, but I think I've just managed to trick my throat into feeling that it's normal. Up to a point...
JD: Anything else you'd like to add? Or anything from the Sontarans themselves?
Sontaran: Do not buy this recording human scum! It depicts another ignominious defeat at the hands of the Doctor! Lies!
DS: Or we could leave it there, really.
John Dorney and Dan Starkey, 2015
Twitter: @MrJohnDorney/@StanDarkley