1.2. The Doctor's Tale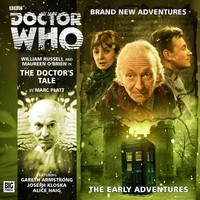 Released October 2014


Prices
| | |
| --- | --- |
| CD | US $19.94 |
| Download | US $10.99 |


Behind the Scenes
Episode List
1. The Lord of Misrule
2. The White Hart
3. Sanctuary
4. The Empty Crown
The Doctor's Tale takes the TARDIS back in time to England, in the winter of 1400. Author Mark Platt: "It's a purely historical story for the First Doctor with Barbara, Ian and Vicki, and no intrusive aliens sticking their tentacled oars in. David Richardson gave me pretty well free rein to go where I liked in history.

"These days, it's getting less easy to find some historical time where the Doctor hasn't been, but Geoffrey Chaucer was a character whom I'd always thought the Doctor should meet, so I started digging around for an intriguing event to slot a story into. I already knew that Chaucer was much more than just the author of The Canterbury Tales. He was a civil servant, a favourite of doomed King Richard II and a possible spy. What I didn't know was that his final days, fallen from favour under the newly usurping Henry IV and probably mixed up with conspiracy, are mysterious and uncertain. Did he flee or was he murdered? Of course, the Doctor is right up to his neck in the dark events."

How did Marc find it writing, effectively, one of the first original full-cast Hartnell era stories in almost fifty years?

"We've retained the narrative element of The Companion Chronicles, which allows for a degree of description, but the full guest cast gives the story far more breadth and space. Of course, it's so sad that we no longer have William Hartnell and Jacqueline Hill. A story without the First Doctor and Barbara would be unthinkable, but the narrative covers for the absence of their voices. The new style format takes the best features of both styles of story and actually liberates the writing."