5.06. The Trouble with Drax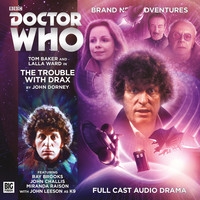 Released June


Prices
| | |
| --- | --- |
| CD | US $14.49 |
| Download | US $8.99 |

Synopsis
This title was release in June 2016. It will be exclusively available to purchase from the BF website until July 31st 2016, and on general sale after this date.
'There are some actors that just gel together – Tom, John Challis and Ray Brooks are a fab triple act and I genuinely hope that The Doctor & Romana cross paths with Drax and co again... A classic.' 10/10 Planet Mondas
'John Dorney seems to have had a great deal of fun writing it, and gives all the guest cast some terrific moments... Jamie Robertson provides some highly appropriate incidental music, and clever sound design, while director Nick Briggs maintains the high energy that this sort of farce needs... The sort of story to put on when you want to put a smile on your face, strong performances from Ray Brooks, John Challis, Miranda Raison and co. ensure Drax makes a memorable return.' 9/10 Sci-Fi Bulletin
'As ever, Baker and Ward shine, but this is one of the rare occasions when the story isn't about the Doctor and Romana's dynamic. It's Drax who is center stage, and he goes to marvelously absurd lengths to get there.' Sci-Fi Pulse
'The Trouble with Drax is a perfect mix of comedy crime caper and offbeat time travel adventure and is one of the highlights of this Fourth Doctor series.' 10/10 Starburst
Altrazar. The temporal Atlantis, a place lost to time. Believed by many to be a myth, it has long been the perfect location for the rich and powerful to hide away their most dangerous secrets.
Until now.
Because the somewhat crooked, not exactly honest, wheeler-dealer cockney Time Lord known as Drax has found a map that leads to its location. And, at the behest of a manipulative businessman, he's going to use it.
When the TARDIS is dragged out of the space-time vortex, its crew aren't best pleased to see the Doctor's old school friend, even less when he pressgangs them into joining a raid on the most secure safe-house in history. However with Romana and K9 held hostage, the Doctor has little choice but to agree. With Drax in tow, he heads for the planet.
Which is where the trouble starts.
Written By: John Dorney
Directed By: Nicholas Briggs
Cast
Tom Baker (The Doctor), Lalla Ward (Romana), John Leeson (K9/Cabot), Ray Brooks (Drax), John Challis (Rosser), Hugh Fraser (Charles Kirkland/Shopkeeper), Jane Slavin (Shopkeeper 2), Miranda Raison (Inspector Fleur McCormick), John Banks (Grunthar/Street-Cleaner)