7.8. The Age of Sutekh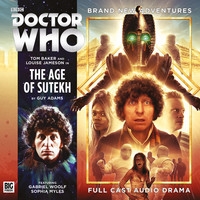 Released May 2018


Synopsis
The world has changed. And the evil Osiran Sutekh is returning.
As blood sacrifices and worship boost the strength of the God of War, servicer robots walk the streets, killing those who have not converted.
Leela is working with the homeless population of the city, while the Doctor co-operates with the police.
A brutal battle is ready to begin. And if the Doctor and his friends fail, everyone in the galaxy will perish.
This story began with Doctor Who - The Fourth Doctor Adventures: 7.7 Kill The Doctor!
Written By: Guy Adams
Directed By: Nicholas Briggs
Cast
Tom Baker (The Doctor), Louise Jameson (Leela), Sophia Myles (Rania Chuma), Gabriel Woolf (Sutekh), Eleanor Crooks (Kendra), John Dorney (Charlton Joyce), Barnaby Edwards (Ash/ Barge Captain/ Dupree). Other parts played by members of the cast.
(Note that this release is one of four collected together in Doctor Who - The Fourth Doctor Adventures Series 7B)
Producer David Richardson
Script Editor John Dorney
Executive Producers Jason Haigh-Ellery and Nicholas Briggs