122. The Angel of Scutari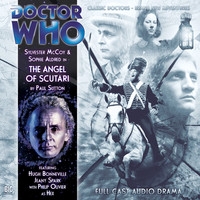 Released June 2009


Prices
| | |
| --- | --- |
| CD | US $19.82 |
| Download | US $12.99 |

Synopsis
October 1854: As the British Army charges into catastrophe in the Crimea, the Minister for War sends Miss Florence Nightingale to take charge of the field hospital at Scutari.

But there's already an angel of mercy working with the wounded at Scutari. A first-rate fellow who's turned up out of the blue. Goes by the name of Schofield; Thomas Hector Schofield...

With the Doctor and Ace lost in the siege of Sebastopol, Hex has rediscovered his calling. But there's cannon to the left of him, cannon to the right of him - and a deranged spycatcher-in-chief on his case.
Written By: Paul Sutton
Directed By: Ken Bentley
Cast
Sylvester McCoy (The Doctor), Sophie Aldred (Ace), Philip Olivier (Hex), Hugh Bonneville (Sir Sidney Herbert/Tzar Nicholas I), Jeany Spark (Florence Nightingale), John Paul Connolly (William Russell/Russian DungeonGuard), Alex Lowe (Brigadier-General Bartholomew 'Barty' Kitchen), Sean Brosnan (Sir Hamilton Seymour), John Albasiny (Lev Tolstoy/Preston)
_____________________________________________________________________
BONUS EPISODE! The Three Companions, Part 3: The Gathernaut

On a planet scheduled for cremation in 35 minutes, the Doctor, Polly, Ben and Jamie meet an unlikely ally.