4. The Avengers: The Comic Strip Adaptations Volume 03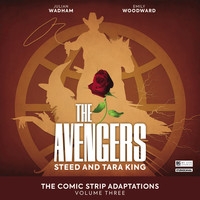 Released February


Prices
CD
US $39.66
Download
US $25.00

Web Special Price!


Synopsis
This title was released in February 2019. It will be exclusively available to buy from the Big Finish website until March 31st 2019, and on general sale after this date.
Based on the adventures of Steed and Tara King in the TV Comic strips:
1. It's a Wild, Wild, Wild, Wild West by John Dorney
Steed is quick on the draw, Tara gallops away.
After reports suggest a series of robberies in the New Forest were committed by cowboys, Mother sends the Avengers into action.
The trail leads to the Western style ranch known as The Lazy J. But will it be high noon for Steed and King?
2. Under the Weather by Phil Mulryne
Steed is put on ice, Tara is blown away.
Steed, Tara and Mother visit an air show to see a demonstration of a new aircraft.
But the plane is stolen from under their noses... and seemingly... by a storm! Something strange is in the air. And it needs the Avengers to sort it out.
3. Spycraft by Robert Khan and Tom Salinsky
Steed meets his equal, Tara gets the cream.
When a visiting dignitary is kidnapped on British soil, Steed and King have to leap into action.
But with questions of diplomatic immunity getting in the way, they may need help from an unusual pair.
4. ...Now You Don't by John Dorney
Steed finds things get tricky, Tara takes the stage.
A strange gift leads to Steed and Tara King spending a night in the theatre. But who brought them there? And why?
An old enemy of the Avengers is on the scene. And he will stop at nothing to get his revenge!
Written By: John Dorney, Phil Mulryne, Robert Khan, Tom Salinsky
Directed By: Ken Bentley
Cast
Julian Wadham (John Steed), Emily Woodward (Tara King), Christopher Benjamin (Mother), Hywel Morgan (Cody/ Jim), Daniel Easton (Billy/ Sam), Karina Fernandez (Jessie), Leighton Pugh (Flight Lieutenant Tudor/ Volkov), James Joyce (Flying Officer Halliwell / Melnyk), David Sibley (Dr Weatherby), Edward Dede Miles (Yeboah), Natalie Simpson (Ruby Sesay), Jude Owusu (Charlie Okonjo/ Kasim), Ewart James Walters (General Babatunde), Nicholas Asbury (Margrave the Magnificent/ Sir Godfrey Thorpe), Maggie Service (Circe/ Mina). Other parts played by members of the cast.
Producer David Richardson
Script Editors John Dorney & Ken Bentley
Executive Producers Jason Haigh-Ellery and Nicholas Briggs