The Avengers: The Miser (Excerpt)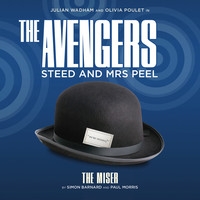 Released April 2016
Synopsis
(This free excerpt comes from the second episode of The Avengers - Steed & Peel - The Comic Strip Adaptations Volume 1 available from Big Finish from April 2016)
Recreations of the comic strip adventures of Steed and Mrs Peel which appeared in Diana magazine in 1966 and 1967.
The Miser by Simon Barnard and Paul Morris
Steed has a nasty scare, Emma has a pressing engagement
When the phrase 'sleeper train' takes on a very literal meaning, Steed and Peel witness the first action of The Miser, a terrifying extortionist.
The race is on to stop his ambitious scheme - but in this case, appearances can be deceptive.
Written By: Simon Barnard, Paul Morris
Directed By: Ken Bentley
Cast
Julian Wadham (John Steed), Olivia Poulet (Emma Peel), Jeremy Clyde (The Miser), Graham Seed (Dick North), David Acton (Montague Pratt), John Banks (Squire Trevithick). Other parts played by the cast.
Producer David Richardson
Script Editor John Dorney
Executive Producers Jason Haigh-Ellery and Nicholas Briggs