The Comic Strip Adaptations Volume 01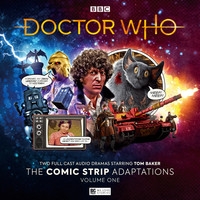 Released March


Prices
CD
US $30.41
Download
US $20.00

Web Special Price!


Behind the Scenes
Nicholas Briggs, director of the Fourth Doctor audio adventures: "These Fourth Doctor comic strip adaptations have a whole different feel to them. It's like they're from a parallel universe vision of Doctor Who. Tom Baker spotted it straight away, emailing me the moment he'd read The Iron Legion, commenting that this was 'a bit DIFFERENT' – actually typing 'different' in capitals! But he rose manfully to the challenge and entered into the spirit of it all wonderfully. And that spirit is that they are, essentially, wackier.
"There's a feeling of 'we could do anything because there are no budget restrictions' in the original comic strips, and our adaptor, Alan Barnes, has captured this perfectly. Crazy characters, extravagant action sequences. And Alistair Lock has done a superb job with his sound design and music.
"The Star Beast has a slightly different feel. The alien monster craziness is contrasted sharply with a dash of kitchen sink drama and a touch of Grange Hill, which predated the TV series exploring more domestic settings. It's interesting how the brilliant comics writer of these strips, Pat Mills, kind of anticipated this. Alan has a great love for Pat's work, and he was absolutely the right fit to adapt these beautiful, bonkers adventures of an extra-eccentric Fourth Doctor."
You can read an interview with new companion Sharon here.